2012 Player Preview: Alberto Callaspo
You may not think much of him, but like it or not, Alberto Callaspo will be the primary third baseman for the Angels this year. Will this be the year Alberto wins everyone over or just gives his detractors more ammunition?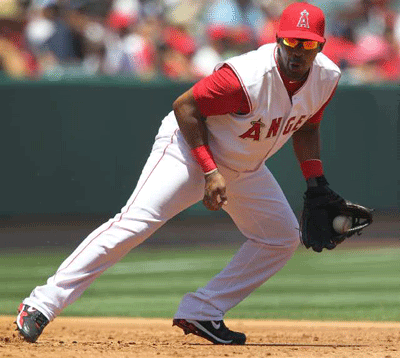 2011 Stats: 475 AB, .288 AVG, .366 OBP, .375 SLG, 54 R, 6 HR, 46 RBI, 8 SB, 1 CS, 48 K
2012 ZiPS Projections: 510 AB, .276 AVG, .334 OBP, .380 SLG, 61 R, 8 HR, 54 RBI, 5 SB, 2 CS, 46 K
2012 Bill James Projections: 505 AB, .279 AVG, .342 OBP, .386 SLG, 61 R, 7 HR, 51 RBI, 6 SB, 3 CS, 44 K
2012 CAIRO Projections: 501 AB, .275 AVG, .335 OBP, .383 SLG, 60 R, 8 HR, 53 RBI, 6 SB, 2 CS, 52 K
2012 PECOTA Projections: 411 PA, .272 AVG, .328 OBP, .372 SLG, 46 R, 5 HR, 39 RBI, 3 SB, 1 CS, 38 K
2012 MWaH Projections*: 395 AB, .290 AVG, .358 OBP, .399 SLG, 40 R, 5 HR, 33 RBI, 5 SB, 2 CS, 38 K
*The MWaH projections are simply my best guess based off my own personal opinion and research
2011 in Review: While you weren't looking, Alberto Callaspo quietly had a pretty solid season, registering a 4.5 rWAR and 3.6 rWAR. Not great, but still plenty good, especially since there is a large contingent of Angels fans that think he is a waste of space. It is hard to blame those people for being skeptical of Callaspo after his disastrous performance after he was acquired in 2010, but by way of a .288 batting average, team-leading .366 OBP and much improved defense at third, Callaspo turned back into the player that Angels thought they were trading for.
One area that Callaspo did prove to have some real worth was with runners in scoring position, where he his .292. Say what you want about whether or not that is a real skill, but for one season, Alberto seemed to be a pretty, wait for it, "clutch" hitter. Given how much RISP hitting has played into the love Maicer Izturis gets from Scioscia and the fans, Callaspo probably deserves a little bit of that same affection now as well.
Three Lingering Questions for 2012:
Was Callaspo's increased walk rate a fluke? Coming off a career-best walk rate, Callaspo seems like he should regress. After all, he never even walked much in the minors. Then again, he is a hitter who makes a lot of contact and seldom strikes out, suggesting that if he put his mind to it, he could learn to use his contact skills to prolong at-bats by fouling them off until he gets a walk. Maybe he got some good coaching or mentoring?
How may starts will Alberto get? Callaspo is still technically the starting third baseman, but he still will have to make room for Maicer Izturis to get semi-regular playing time. There is also now the possibility that Mark Trumbo will see limited action at third base as well. Plus, he is just so imminently replaceable that Halos might actually trade for an upgrade mid-season.
Where in the order will Callaspo hit? He led the team in OBP, but typically batted fifth or sixth despite having a .086 ISO. That just sounds so wrong, but it also just sounds so Scioscia. Will he wise up and use Callaspo properly?
What to Expect in 2012: The first thing you will notice with my projection for Callaspo is that he won't play quite as much as he did in 2011. I am a firm believer that the whole Trumbo-at-third base experiment is pretty much dead on arrival, so I can't foresee him losing many, if any, starts to Trumbo. However, he will have to share more time with Maicer Izturis. Callaspo actually should have played less last season in favor of Izturis if not for the problems the Angels had in left field, opening up 20 starts for Howie Kendrick in left, which in turn gave Izturis 20 extra games to log at second base, which in turn meant several more starts for Callaspo at third. This Angel roster is much deeper than last year's team, so Callaspo won't benefit from that kind of a fluke again.
That being said, Callaspo should still see plenty of action because his numbers should be solid once again. With the exception of him getting BABIP'd in 2010, Callaspo has proven to be guy that makes a lot of good contact that can hit for a good average. His 2010 struggles also included an artificial dip in walk rate which made his 2011 rise in walk rate seem larger than it really was. He should still regress some in that area, but not so much that he won't end the season with one of the better OBPs on the team (which is actually something of an indictment on the Angel roster). One stat that does lead me to believe that the walk rate increase is real is that Callaspo saw 3.87 pitches per plate appearance last season but had been between 3.31 and 3.54 in previous years. Maybe I am reading too much into it, but that is a pretty big spike if he just drew more walks by accident and not some sort of real change in his approach.
What is annoying though is that his OBP will probably go to waste. Despite leading the team in on-base percentage while displaying pretty much no power, Alberto had all of 48 at-bats in the two-hole and a whopping ZERO in the leadoff spot, spending almost all of the rest of the time batting fifth or sixth. Why? Because he isn't a prototypical leadoff guy in that he isn't fast and doesn't steal bases. Such is the will of the Scioscia and I don't see that will suddenly changing tact unless Jerry Dipoto Jedi mind tricks Sosh into finally realizing the importance of OBP. Alas, I believe Scioscia's desire to have a switch-hitting bat in the six-hole to break up the string of righties he figures to have in the middle of the order (assuming Morales isn't healthy) will win out.
What stinks for Callaspo is that there is almost nothing he can do to prevent himself from being non-tendered at the end of this season. After his 2011 campaign, he got a $1.15 million raise. He now makes $3.15 million and will likely make somewhere between $4 million and $5 million in his third and final year of arbitration. For a player who even under the most glowing of circumstances can only be described as "solid," that's probably going to be too much money, especially if Luis Jimenez looks like he is ready to take over at third base in 2013.
Hehe, heh! Well said, Mr. The Monkey! The problem of where to bat him harkens me back to the daily news posting of this morning about where to bat Albert. You could have Callaspo bat ninth, which would give you that extra baserunner (and pitching distraction) that could be desired in front of Albert when batting third. And I'd have to assume the Angels lineup cards will just come printed up with Albert in the three-hole.
If he can maintain that OBP Callaspo would also be a pretty good leadoff guy for Albert considering the anchor he drags around behind him on the base paths. For those who worry that a true base stealer leading off could take the bat out of Albert's hands were he beyond first base, Callaso pretty much grows roots once he gets to first so problem solved! In either case, if Howie, whom I assume will be batting second, gets a hit Callaspo isn't much of a threat to take the extra base (unless he sees a chance to run into an out) so still no harm done to take the bat out of Albert's hands. In this second case you bat Aybar ninth.
I guess you could also go Abreu/Callaspo or Callaspo/Abreu batting one, two if OBP is the end all, be all but that thought makes acid build up in my stomach. I'm still hoping Abreu doesn't last much longer in an Angels uniform.