The Vernon Wells trade may seem like a failure to the general public, but if you ask Tony Reagins, he probably views the deal as a smashing success because of all the bullet points it knocks off his post-season checklist:
Big splash? Check, even if the splash made everyone wet and uncomfortable.
Big bat? Check, assuming Wells doesn't continue his trend of alternating good and bad seasons.
Find a new left fielder who can actually field? Check, or at least we hope so.
Show that Arte Moreno is willing to spend big money? Check, check and then check about 86 million more times.
Acquiring a leadoff hitter so the revamped middle of the order actually has somebody to drive in? Ummmm... oh, crap. I knew we forgot something. D'oh!!!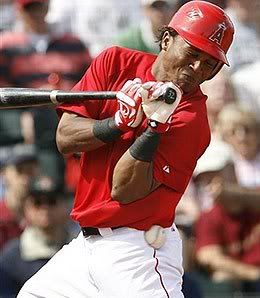 Another painful year of Aybar manning the leadoff spot? Say it ain't so!!!