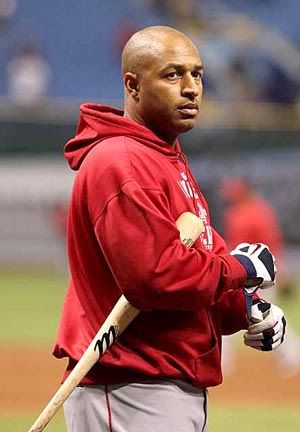 It has already been said a lot as a joke, but the line that it isn't like the Angels are going to get worse now that Vernon Wells is on the disabled list with a groin injury is actually kind of true.
Forgive me for taking WAR (Wins Above Replacement) so literally, but seeing how Vernon has been worth a -0.3 WAR, he is by statistical definition replaceable. Actually, if you want to get technical, the Angels not only don't get worse, they might actually get better if they fill Wells' spot with someone who is merely replacement-level (and that ain't very good).
More Mark Trumbo? He is playing much better than Wells, that's for sure, can't complain about him getting more ABs, even if he might be a trainwreck in the outfield.
Move Bobby Abreu to left? Speaking of awful defense. Moving Abreu out of the DH still means finding another replacement in the lineup, though it could help get Callaspo, Izturis, Kendrick and Aybar in the same lineup on a regular basis, which has been a quality arrangement thus far this season.
Alexi Amarista? Hard to say since he is so new, but it isn't like the little man is filling very big shoes (Amarista stature jokes will never get old, and I argue that they might actually somehow make the team better, I'm not sure how, but I believe it in my heart of hearts).
Reggie Willits? Yeah, I know, but over the course of his career he has contributed at replacement level or at least close to it. At least he won't hurt the defense.
Chris Pettit or Jeremy Moore? Now we are entering "they could be worse" territory, but both have a bit of upside, so why not give them a look?
Mike Trout? OK, calm down. Rein in that imagination, because this isn't an option and Scioscia even said as much in not so many words.
Nonetheless, you see what I'm going for here. The options to replace Vernon are, how can I put this nicely? Uninspiring? Mildly depressing? Indicative of the Angels lack of organization depth in the high minors? A textbook example of why you shouldn't carry three catchers? Wait! I got it-
Not very good, but still good enough to be no worse than Wells was before the injury and possibly even a little bit better. What they aren't, however, is real high on potential for quick and significant improvement.