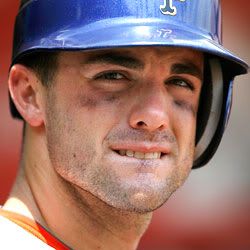 It may be the first week of May, but I say it is never to early for a little trade speculation.
With the recent news breaking that the Giants have had discussions about tradng for Jose Reyes of the Mets, I'm declaring open season on rumor mongering. Only my target is set slightly to Reyes' right at third baseman David Wright.
Now, don't go getting too excited, there are ABSOLUTELY ZERO rumors about Wright being dealt to the Halos. What I am simply attempting to do is predict the eventual trade market for the Angels, and Wright seems like a good first scenario to consider since the combination of the Mets' poor record and sticky financial situation could lead to a fire sale of their star players.
What I want to figure is not only if the Angels have what it takes to pry Wright loose, but also if that is even a realistic scenario and actually a good idea.
One thing I hate when I see contrived trade scenarios pop up on the net is a complete lack of consideration for what the other team actually thinks and wants. So as not to fall victim to that trap myself, I've called in some reinforcements in the form of Bloguin's Mets blog MetstradamusBlog.com. John offers up his take on a potential Wright trade: