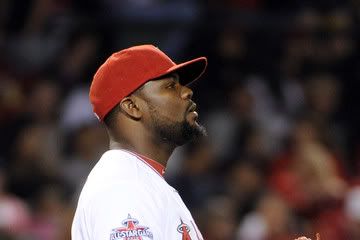 I like to think that I coined Fernando Rodney's nickname "Fraudney" (that may or may not be true, but I take credit for it nonetheless). MWAH's own Jon Lyons has also brilliantly labeled him "The Tilted Hat of Misery." Those nicknames are fun, creative and entirely true, but I have yet another new name for us all to call Fernando Rodney and that is: Fernando F@#!ing Rodney.
Is it creative? Not at all. Is it appropriate? Abso-freaking-lutely.
Who amongst us hasn't yelled that very phrase at our TV at least once this season. Heck, I've probably screamed it five times in the last week alone. This goes without saying, but Fernando Rodney has been so tragically terrible this season that he has quickly become the most hated man in Angel Nation and, really, he is blowing the competition out of the water.