Our long national nightmare finally appears to be coming to an end. Mike Scioscia has at long last acknowledged the incontrovertible evidence that proves how terrible Jeff Mathis is and stripped him of his starting job, choosing instead to embrace sanity and logic by anointing Hank Conger the Angels' new primary backstop. Only one real question remains to be answered now... how do we celebrate?
In all seriousness, this move, as unofficial as it still is, is somehow both overdue and a surprise. Mathis has been the bane of Angel fans' existence for years now. Almost no fan could put forth a rational explanation for why Mathis continued to get so much playing time when the Angels had Mike Napoli standing idly by. But coming into this season, Napoli had been jettisoned and we all slowly began to make our peace, begrudgingly so, with the fact that we would probably be seeing even more Mathis, and his Mendozian bat, than ever.
For as much disdain as the fans harbored for the offensively-challenged catcher, Mike Scioscia seemed to carry just as much respect for Mathis' defensive prowess. For that reason alone, Mathis has been able to carve out a role for himself despite all of his other failings and it seemed his defensive superiority was also going to prevent him from being replaced by top prospect Hank Conger, a player that was known to have real offensive skills but was supposed to be a work in progress behind the plate. We didn't like the arrangement, but it seemed as inevitable as death and taxes. Or at least that is what we all thought.
Defense. Defense. Defense. Those have always been Mike Scioscia's top priorities when it comes to selecting his starting catcher. Nothing will ever change his mind in that regard. So how did Mathis, a man that Sosh has frequently lauded as one of the top backstops in the game, lose his grip on the starting gig almost overnight?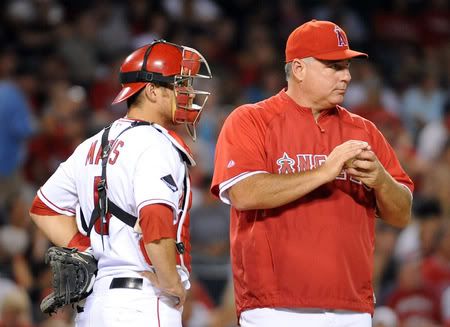 What series of events finally caused Scioscia to lose his man-crush on Mathis?