Our next prospect in the MWaH/LAAI Top 30 Angels Prospects Countdown was a player people had big hopes for, but injury ended his season before it ever began. What do we make of Cam Bedrosian now that he has had to undergo Tommy John surgery?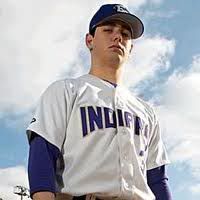 Cam Bedrosian
Position: Pitcher Level: Injured
Bats: Right Throws: Right Height: 6'0" Weight: 204 lbs.
Age: 21 Born: October 2, 1991
2011 Season Stats: Did Not Play, Injured
Fastball – B+. Before Tommy John surgery he sat at 93+ with command but little movement.
Breaking Ball – A-. He throws a hard sharp slider low in the zone. Definitely "plus" offering.
Change up – C+. Reports indicate it showed considerable promise.
Performance – N/A. Surgery kept him out all season.
Projection – B. If change up develops could be #3 starter. Otherwise closer type reliever.
Comp – Floor: Typical set up man. Ceiling: Steve Bedrosian (elite closer).
Video - Cam Bedrosian strikes out Bryce Harper at Aflac High School All-American Game
Estimated MLB Arrival Date: As a starter, 2015. As a reliever, 2014.
(*As always, the above scouting report is provided by Scotty Allen of LA Angels Insider)