With the next prospect in Angels Top 30 Prospects Countdown, we finally get a look at what happens when a Dominican Summer League phenom makes good stateside as Ariel Pena begins to come into his own.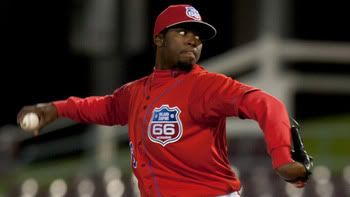 Ariel Pena
Position: Starting Pitcher Level: High-A
Bats: Right Throws: Right Height: 6'3" Weight: 186 lbs.
Age: 22 Born: May 20, 1989
2011 Season Stats: 10-6, 151.2 IP, 4.45 ERA, 154 H, 10 HR, 81 BB, 180 K, 3.42 FIP, .358 BABIP, 1.24 GO/AO
Fastball – A-. Sits at 95+ with movement, usually topping out around 98.
Breaking Ball – A. Hard, fall of the table slider. Similar to Ervin Santana's.
Change up – C. Nothing remarkable about it. Needs to control it.
Performance – B. Strike out king, but too many BB.
Projection – B+. Looks like an ace or a closer. I have more faith than most he remains SP.
Comp – Floor: Jose Arredondo. Ceiling: Ervin Santana.
Video - Pena in Instructional League (Videos in alphabetical order, by last name)
Estimated MLB Arrival Date: As a starter, 2015. As a reliever, 2013.
(*As always, the above scouting report is provided by Scotty Allen of LA Angels Insider)