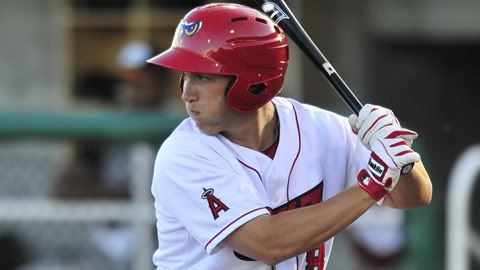 Next up on in our the MWaH/LAAI Top 30 Angels Prospect countdown we take a look at one of the rising stars of the farm system in 2011, second baseman Taylor Lindsey.
Taylor Lindsey
Position: 2B Level: Rookie
Bats: Left Throws: Right Height: 6'0" Weight: 195 lbs.
Age: 20 Born: December 2, 1991
2011 Season Stats : 290 AB, .362 AVG, .394 OBP, .593 SLG, 28 2B, 6 3B, 9 HR, 46 RBI, 46 SO, 10 SB, 4 CS, .407 BABIP
Bat – B. Tearing apart Orem, but that isn't saying much. Still, a very good bat for 2B.
Speed – C+. He's faster than the average player, but for it's not a part of his game.
Arm – B. It's strong enough for SS, though his range isn't, but it's a great arm for a 2B.
Performance - A. He's been the best hitter on his team at each level of Rookie Ball.
Projection – B. An offensive minded 2B with good defense.
Comp – Floor: Sean Rodriguez. Ceiling: Ian Kinsler
Estimated MLB Arrival Date: Late 2014
Video: Lindsey base hit while playing for Orem.
(*As always, the above scouting report is provided by Scotty Allen of LA Angels Insider)