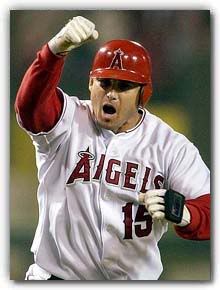 Later today, Major League Baseball will announce the 2012 class of entrants into the Baseball Hall of Fame in Cooperstown. Barry Larkin's name almost defintely will be announced as being selected for enshrinement. Jeff Bagwell, Jack Morris and Tim Raines all could as well, but probably won't. One name that definitely won't be called is that of Angel great Tim Salmon.
As of this writing, 134 of the over 500 Hall of Fame ballots have been revealed, a grand total of one vote has been cast in favor of the Kingfish entering the Hall. That is a damned shame.
No, it is not a shame that Salmon won't be getting the call for Cooperstown. Even the most biased of Angels fans has to admit that while he might be the finest player in the history of the franchise, he just isn't Hall of Fame material. Aside from a Rookie of the Year award and one Silver Slugger, Salmon has no big shiny hardware to show off to the voters. He never led the league in any category ever. His career OPS+ is good, but not great. He finished his career with 299 homers, a number that in and of itself is disappointing because he couldn't even muster one more big blast to make his total a nice, round, spiffy 300.
The shame is that after a career of being under-appreciated outside of Anaheim, the greater baseball community is going to botch its one last opportunity to give Salmon that modicum of respect he deserves.