We now interrupt your round-the-clock coverage of Albert Pujols taking batting practice at training camp to bring you this very important distraction.
I have to be honest, I've been so bogged down providing roster analysis and player profiles for the last several weeks that I feel the need to shake things up a bit. This will probably be the least important thing you read about the Angels all week, but hopefully you'll get a kick out of it.
While doing all the thoughtful research for the aforementioned analysis this whole month, I've obviously had to do internet searches for alll the Angels players. In so doing, I've continually stumbled across the secret alter egos of some of the Angel players. OK, we aren't exactly talking about Superman and Clark Kent here, but in several cases, players on the Angel roster turn out to have other famous people out there that share the same name.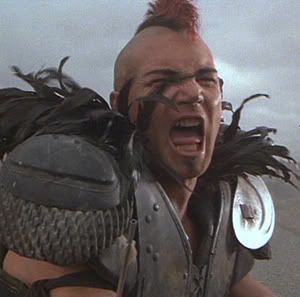 For example, the outfielder you know as Vernon Wells was also an accomplished movie villain in the 1980's? Check out that picture to the left. That's the "other" Vernon Wells. I'm pretty sure that he might be a better hitter than our Vernon Wells. At a minimum, the mohawk and shoulder pads should make him pretty intimidating. But you've probably seen this joke before. Let's take a look at some of the lesser known alter egos of the Angel roster.