Next up in our Los Angeles Angels Top 30 prospect countdown, we finally get away from this year's draft choices and look at someone with a bit more experience. After a third straight quality season, Haerther's consistency is getting him some attention even if he doesn't do anything spectacular.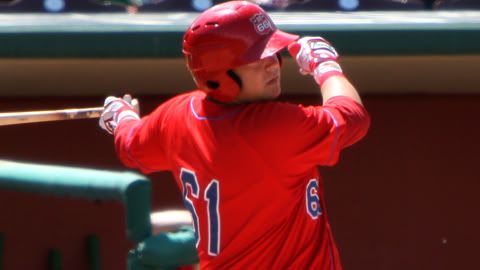 Casey Haerther
Position: 1B/3B Level: High-A
Bats: Right Throws: Right Height: 6'2" Weight: 210 lbs.
Age: 24 Born: October 5, 1987
2011 Season Stats: 437 AB, .293 AVG, .330 OBP, .426 SLG, 34 2B, 0 3B, 8 HR, 68 RBI, 73 SO, 1 SB, 2 CS, .334 BABIP
Bat – B. Good average with gap power, but HR power still hasn't emerged yet.
Speed – C. He moves well for a corner IF, even if his stolen base totals don't indicate it.
Arm – B. It's good enough to remain at the hot corner, but 1B is more than likely his future.
Performance – B. Haerther is a consistent middle of the order bat.
Projection – His bat will take him as far as he will go. A good 1B/3B utility player/PH.
Comp - Floor: Rob Quinlan. Ceiling: Jorge Cantu.
Estimated MLB Arrival Date: 2014