The Top 30 Angels Prospect Countdown marches on. While not blessed with overpowering velocity or electric off-speed pitcher, Max Russell's yeoman-like performance in Single-A is starting to earn him some deserved notice.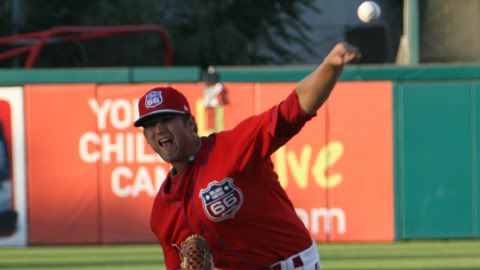 Max Russell
Position: Starting Pitcher Level: Split the season between Low-A and High-A
Bats: Left Throws: Left Height: 6'2" Weight: 210 lbs.
Age: 23 Born: September 21, 1988
2011 Season Stats (Low-A): 5-10, 114.0 IP, 3.79 ERA, 101 H, 14 HR, 45 BB, 85 K, 4.67 FIP, .264 BABIP, 1.54 GO/AO
2011 Season Stats (High-A): 1-2, 41.0 IP, 4.17 ERA, 42 H, 4 HR, 8 BB, 34 K, 3.61 FIP, .308 BABIP, 1.28 GO/AO
Fastball – B. He sits at 90-91 and spots it, generating ground balls and sets up his curve.
Breaking Ball – B. Curveball that is hard to make solid contact because he keeps it low and spots it where he wants.
Change up – B. The true mark of a polished starter, he can throw it in any count.
Performance – B. Didn't blow anyone away, but he was a quality start machine. Consistent.
Projection – Solid number four starter.
Comp – Floor: AAA flameout. Ceiling: Joe Saunders.
Video - Not one of his finer starts. Max Russell gets hit hard.
Estimated MLB Arrival Date: 2014