You're never going to believe this, but I have another new weekly feature I want to try out. This new endeavor is a chance for us to take a weekly look at what the other chumps in the AL West have been up to. In other words, it is a chance for me to make fun of the other teams in the division. Who could possibly be against that.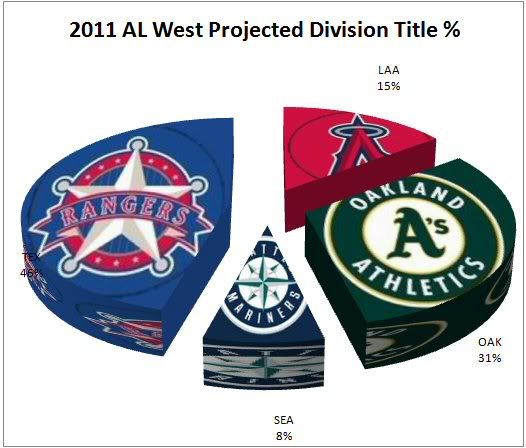 To kick off this feature, I thought it would be fun to take a look at the graphic above that shows the division-winning odds of each team entering the season. Obviously there is a lot of season left to play, but I imagine that some of those pie slices would be distributed very differently. Those pre-season prognosticators largely assumed that Texas was pretty much a mortal lock to win the AL West, with the exception of that minority of folks who just wanted to be different so they picked the A's. The Angels? Yeah, not so much (and the Mariners? Ha!).
Yet here we are 40+ games into the season and there is basically a three-way tie atop the division. No team is running away with the division and no team is truly out of it (except for the Mariners, this will be a recurring theme). It is really going to come down to which team can best address their fatal flaw (or flaws). The Rangers are injury-riddled and have suspect pitching. The A's can't hit and are struggling mightily on defense. The Angels, well, we know all about their pitiful lineup and their ulcer-inducing bullpen.
With 120 games left, it should be one wild ride to watch. Until then, let's get to the meat of this feature and get the latest scoop on the rival squads.