I've teased at it for weeks and now it is finally here, the Top 30 Angels Prospect Countdown. We here at Monkey With a Halo have combined forces with Scott Allen from LA Angels Insider to provide you with all you ever needed to know about the best the Angels farm system currently has to offer. This countdown starts today with this year's sixth-round draft choice fireballer Austin Wood and it will continue for the next several weeks as we take an in-depth look at one prospect each weekday until we get to number one (you'll never guess who it is... and by that I mean you will totally guess it). We'll also be supplementing this coverage with some podcasts over at LAAI featuring Scotty and myself, so stay tuned for information on when those will be available for your listening pleasure. Enough with the introductions, let's see if this Austin Wood kid was really worth all the hassle it took to sign him.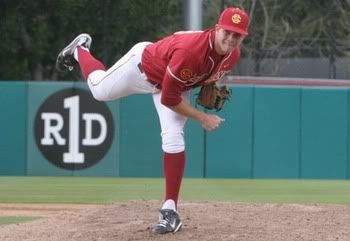 Austin Wood
Position: Starting Pitcher Level: Rookie
Bats: Right Throws: Right Height: 6'4" Weight: 225 lbs.
Age: 21 Born: July 11, 1990
2011 Season Stats (at USC): 5-7, 77.0 IP, 5.61 ERA, 90 H, 34 BB, 50 K
2011 Season Stats (Rookie): 0-0, 1.1 IP, 20.25 ERA, 90 H, 0 BB, 1 K
Fastball – A. Not much movement, but according to scouting reports it sits at 97+.
Breaking Ball – C. Slurve type curve, nothing to write home about yet.
Change up – B-. He has it, and uses it. Nothing in the way of commanding it, but it's good.
Performance – N/A, just 1.1 innings of minor league play.
Projection – A. Cape Cod manager said he was capable of going top 5 or 10 in draft.
Comp – Floor: Erratic reliever that never lives up to promise. Ceiling: Josh Beckett.
Video - Wood pitching for USC
Estimated MLB Arrival Date: 2015.