Up next in our prospect countdown is another promising young arm for this year's draft (maybe the Reagins regime wasn't all bad). As a JUCO relief prospect with a big arm, Michael Clevinger adds to the Angels' growing collection of power bullpen prospects, assuming that he stays in the bullpen and learns to be more than just a flame-thrower.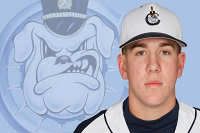 Michael Clevinger
Position: Relief Pitcher Level: Rookie (2011 4th-round draft choice)
Bats: Right Throws: Right Height: 6'4" Weight: 202 lbs.
Age: 20 Born: December 21, 1990
2011 Season Stats: 0-0, 4.0 IP, 2.25 ERA, 3 H, 0 HR, 2 BB, 5 K, 2.20 FIP, .300 BABIP, 0.40 GO/AO
Fastball – A-. Sits at 95 mph with a deceptive ¾ delivery that could be effective against RHB.
Breaking Ball – B. Has the necessary slider to put hitters away.
Change up – Not applicable. He doesn't use it as a RP, but should he ever start, he has one.
Performance – B+. Best K/9 ratio in competitive Florida JUCO scene. Solid in Orem.
Projection – B. Has the stuff to be closer/decent #3 SP, reports indicate he'll remain in pen..
Comp – Floor: Ben Weber. Ceiling: Octavio Dotel.
Video - Clevinger's delivery in the Cape Cod League
Estimated MLB Arrival Date: 2014