Up next in our Top 30 Angels Prospect Countdown, reliever Robert Fish, a player who was in high demand before the season and did a fine job of justifying that throughout the course of it. The fireballing southpaw's stock is definitely on the rise, but can he keep it up?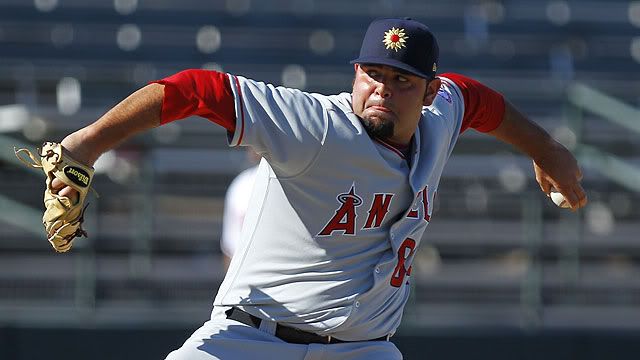 Robert Fish
Position: Relief Pitcher Level: AA
Bats: Left Throws: Left Height: 6'2" Weight: 230 lbs.
Age: 23 Born: January 19, 1988
2011 Season Stats : 1-0, 30.1 IP, 3.26 ERA, 21 H, 1 HR, 18 BB, 41 K, 2.80 FIP, .303 BABIP, 1.88 GO/AO
Fastball – A+. It's rare to see LHP dial it up over 95, but Fish does. Incredible heater.
Breaking Ball – B. Seems to interchange curve and slider. Good movement on both.
Change up – C. Rarely ever see him use it, but he reportedly has one.
Performance – B+. Guns flashing 100 on his FB were hot, but can't fake missing bats.
Projection – Closer or good set up man.
Comp – Floor: Mike Gonzalez. Ceiling: Billy Wagner – yes he throws that hard.
Estimated MLB Arrival Date: 2012/2013