Our next prospect in the MWaH/LAAI Top 30 Angels Prospects Countdown is yet another intriguing pitcher who had his season wiped by injury. Had he been healthy Fabio Martinez could have been the best pitching prospect in the Angel farm system, but what do we make of him now after a season of shoulder problems?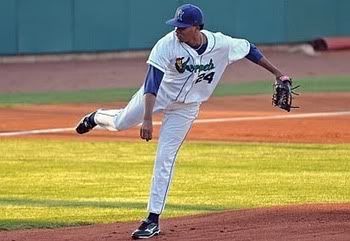 Fabio Martinez Mesa
Position: Pitcher Level: Low-A
Bats: Right Throws: Right Height: 6'3" Weight: 190 lbs.
Age: 22 Born: October 29, 1989
2011 Season Stats: 0-, 2.1 IP, 0.00 ERA, 2 H, 0 HR, 1 BB, 2 K, 2.77 FIP, .286 BABIP, 4.00 GO/AO
Fastball – A. Sits around 95 with lots of late sink and he hides well. Very difficult to hit.
Breaking Ball – B. One of the best sliders in the minors, but can't command it.
Change up – C. It's a work in progress.
Performance – C. Was great in Cedar Rapids last year, but missed most of 2011 with shoulder problems.
Projection – A. If he can stay healthy and command off speed pitches, either an ace or elite closer.
Comp – Floor: Jose Arredondo. Ceiling: Ervin Santana
Video - Martinez mowing them down in Cedar Rapids
Estimated MLB Arrival Date: As a starter, 2015. As a reliever, mid 2013.
(*As always, the above scouting report is provided by Scotty Allen of LA Angels Insider)