Next up on in our Top 30 prospect countdown, the anti-Conger catching prospect, Carlos Ramirez. Unlike Conger, Ramirez carries a strong defensive reputation, but is dogged by questions about whether or not he can hit enough to be a big league catcher. But now that he is coming off a terrific offensive campaign with the Inland Empire 66ers, is it safe to believe in Ramirez' potential as a well-rounded backstop?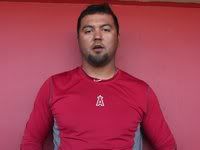 Carlos Ramirez
Position: Catcher Level: High-A
Bats: Right Throws: Right Height: 5'11" Weight: 210 lbs.
Age: 23 Born: March 19, 1988
2011 Season Stats (Low-A): 108 AB, .259 AVG, .367 OBP, .370 SLG, 3 2B, 0 3B, 3 HR, 12 RBI, 17 SO, 1 SB, 2 CS, .281 BABIP
2011 Season Stats (High-A): 181 AB, .348 AVG, .403 OBP, .530 SLG, 21 2B, 0 3B, 4 HR, 28 RBI, 33 SO, 1 SB, 0 CS, .404 BABIP
2011 Season Stats (AA): 9 AB, .222 AVG, .222 OBP, .444 SLG, 0 2B, 0 3B, 0 HR, 1 RBI, 1 SO, 1 SB, 0 CS, .250 BABIP
Bat – B. Ramirez has gap power, hits for average and is a very disciplined at the plate.
Speed – C-. He's above average for a catcher, but by no means is Ramirez fast.
Arm – B+. He has a good arm but his CS% isn't great, though it may not be his fault.
Performance - A. A good defensive catcher that hits .348 in A ball isn't common.
Projection – B. Probably not Joe Mauer, but could be everyday MLB catcher.
Comp – Floor: Bobby Wilson. Ceiling: Ramon Hernandez
Estimated MLB Arrival Date: 2014
(*As always, the above scouting report is provided by Scotty Allen of LA Angels Insider)