Up next in the MWaH/LAAI Top 30 Angels Prospect Countdown, one of the most exciting names in the Angels system, John Hellweg. OK, the name itself isn't very exciting but the potential in the big righty most definitely is, especially after his breakthrough season.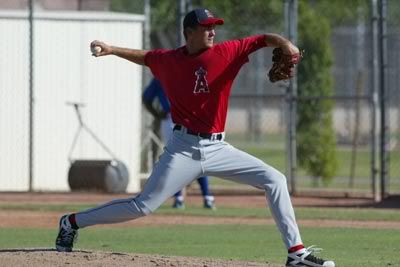 John Hellweg
Position: Pitcher Level: High-A
Bats: Right Throws: Right Height: 6'9" Weight: 210 lbs.
Age: 23 Born: October 29, 1988
2011 Season Stats: 6-4, 89.1 IP, 3.73 ERA, 75 H, 2 HR, 59 BB, 113 K, 3.45 FIP, .340 BABIP, 2.74 GO/AO
Fastball – A. As a RP sat around 99, as a SP 97. Has also started using a very nice two seam.
Breaking Ball – B. Tight slider, doesn't drop like Santana's, but throws for strike more often.
Change up – C. Same mechanics and it shows promise as it has movement, but needs work.
Performance – B. Wasn't great as RP, but has been untouchable as starter.
Projection – B. He's either going to be a #2 starter or solid late inning RP.
Comp – Floor: Random hard-throwing RP. Ceiling: Daniel Bard as RP, Chris Carpenter as SP.
Video - Hellweg tosses a bullpen session
Estimated MLB Arrival Date: As a starter, 2014. As a reliever, 2013.
(*As always, the above scouting report is provided by Scotty Allen of LA Angels Insider)