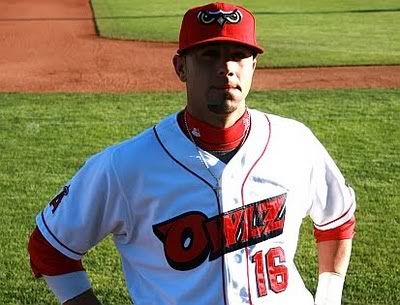 Next up on in our the MWaH/LAAI Top 30 Angels Prospect countdown a guy who could some day be a franchise third baseman, but still has a loooong way to go. That man is Kaleb Cowart.
Kaleb Cowart
Position: 3B Level: Rookie
Bats: Both Throws: Right Height: 6'3" Weight: 190 lbs.
Age: 19 Born: June 2, 1992
2011 Season Stats : 283 AB, .283 AVG, .345 OBP, .420 SLG, 12 2B, 3 3B, 7 HR, 40 RBI, 81 SO, 11 SB, 4 CS, .363 BABIP
Bat – B+. Can hit for average and power, still raw.
Speed – B. Above average for a 3B, leads Orem in SB. 15+ potential.
Arm – A+. Among the best arms for a 3B I've seen. Was highly touted pitcher in high school.
Performance - B. Feast or famine in rookie ball, needs to gain consistency.
Projection – A. Could end up being perennial all-star 3B. No weaknesses.
Comp – Floor: AA flameout and switches back to pitching. Ceiling: David Wright.
Estimated MLB Arrival Date: 2015
Video: Cowart rips a run scoring double in Pioneer League play.
(*As always, the above scouting report is provided by Scotty Allen of LA Angels Insider)