At the last Winter Meetings, the Angel franchise took a major hit. They botched the Carl Crawford negotiations in humiliating manner, exposing their front office as being inept. That embarrassment ultimately set them up to make the payroll-crippling Vernon Wells trade. So excuse me if I enter this year this year's Winter Meetings with a fair amount of trepidation, new front office be damned.
Fear must not hold us back though. We are armed with a new GM that appears to know what he is doing and, well, these meetings are going to happen whether we want them to or not. Dipoto has already shown us what he can do via trade, now he is entering these next few days with the full intention of checking a few more items off of his shopping list. Will the Halos continue to make smaller more savvy moves? Or will they look to make a (wait for it) big splash?
Time to read the tea leaves and see if we can't figure out what the Angels have up their sleeves.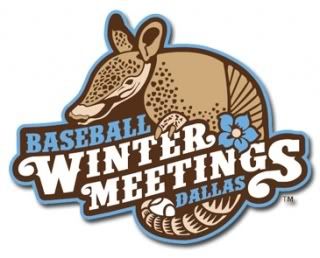 No, the cuddly armadillo mascot does not make me feel any better.