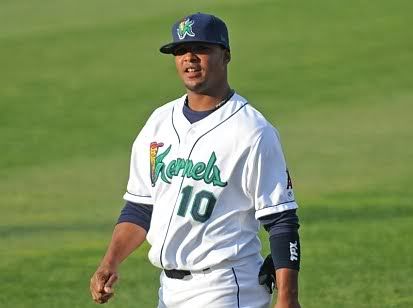 Next up on in our the MWaH/LAAI Top 30 Angels Prospect countdown is the possible third baseman of the future for the Angels, Luis Jimenez, that is assuming his free-swinging ways don't hold him back.
Luis Jimenez
Position: 3B Level: Double-A
Bats: Rightt Throws: Right Height: 6'1" Weight: 205 lbs.
Age: 23 Born: January 18, 1988
2011 Season Stats (AA): 490 AB, .290 AVG, .335 OBP, .486 SLG, 40 2B, 1 3B, 18 HR, 94 RBI, 72 SO, 15 SB, 6 CS, .303 BABIP
2011 Season Stats (DWL): 117 AB, .222 AVG, .260 OBP, .402 SLG, 4 2B, 1 3B, 5 HR, 16 RBI, 21 SO, 3 SB, 1 CS
Bat – B+. Hits for average & power, but is still undisciplined. Rarely walks, but no K's either.
Speed – B. Above average for 3B, has stolen over 20 in minors.
Arm – A-. Very strong arm, very quick release, not inaccurate but could be better.
Performance - A. AA all-star, Futures Game participant. Very good numbers in AA.
Projection – B. Doesn't look like an all-star but has the upside of being a solid starting 3B.
Comp – Floor: Jorge Cantu. Ceiling: Adrian Beltre
Estimated MLB Arrival Date: Any time in 2012.
Video: Jimenez takes some practice cuts in preparation for the Future's Game.
(*As always, the above scouting report is provided by Scotty Allen of LA Angels Insider)