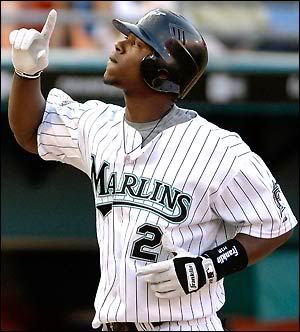 Welcome to the brave new world of the free-wheeling, big-spending Angels where no deal you can imagine is beyond the scope of reality!
You'd think that after landing Albert Pujols and C.J. Wilson in one morning, the Angels would be more than done with their off-season maneuvers, especially big-ticket acquisitions. Well, that apparently is the case, not according to the rumor mill anyway because you'll never guess who has been linked to disgruntled All-Star Marlins shortstop Hanley Ramirez. Go ahead, guess.
Yep, that's right, the Angels and Arte Moreno's big fat checkbook.
Does this rumor hold water? Sure, in the sense that Angels have the right trade pieces to match up with Miami and, apparently, enough cash to make it happen.
But also, no, not at all. The whole reason Ramirez is supposedly unhappy in the first place is that the Marlins want him to shift from shortstop to third base, which is exactly what the Angels would likely do if they were to acquire Hanley.
Normally that would give me enough cause to give up on the whole idea, but that was me thinking about the old Angels. The pre-Pujols Angels. The Tony Reagins Angels. But now we're talking about the Dipoto Angels. The Angels who can make big splashes, plural. The Angels who can do the seemingly impossible by prying Albert Pujols away from his beloved Cardinals.
So I say, why not Ramirez too? It might just be fantasy at this point, but let's take a look at what it would take for the Halos to get the Fish to cough up Hanley Ramirez. After all, fantay has a way of becoming reality for the team from the Magic Kingdom lately.