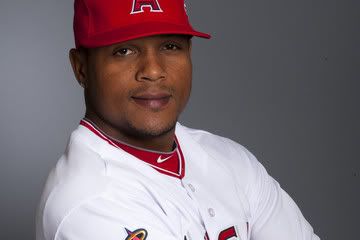 In the next few weeks, the Angels will have to start getting into arbitration discussions with some of their key players. The first such big case, Erick Aybar. Why is his first? Well, because of alphabetical order, but it is still a big case.
This is Erick's third and last year of team-controlled arbitration. That puts an onus on he and the Angels to not only play nice during the arbitration negotiations, and possibly even creates pressure for both sides to start working out a long-term contract... assuming both parties are interested in such an arrangement. So what should they do?
Here is what we know about Aybar:
Arte Moreno at one point thought so highly of Aybar that he refused to include him in a trade him for Roy Halladay. So Arte probably wants him to stay for a long, long time.
Jerry Dipoto loves him some OBP and Aybar has a career OBP of .319 with a career-best of .353, but in a season in which he hit .312. Homeboy don't walk much.
The Angels love themselves some defense and Aybar has been a quality defender his whole career, culminating in a Gold Glove in 2011. Defensive metrics tend to suggest he is an average defender though, so it will be interesting to see what Dipoto really thinks for Aybar's defensive value.
When Aybar is locked in, he can be great. That .312/.353/.423 slash line he posted in 2009 was awfully similar to the kind of numbers that Jose Reyes has posted in his career and Reyes just got a nine-figure contract. If Aybar can get back to being that productive in 2012, he stands to become VERY expensive for the Angels to keep long-term.
Focus has always been an issue for Aybar as he has a long history of being a streaky player in the field and in the batter's box. One such example, Aybar had .479 OPS this last August followed by him finishing the season with a 1.038 OPS in the month of September.
Aybar may be inconsistent, but he is still improving. In 2011 he set career-highs in steals with 30, RBIs, runs, home runs, ISO and WAR. If he does that again or better in 2012, again, he is very expensive.
The general consensus is that Aybar will make $4.5 million this season if he goes to arbitration.
The Angels made the deliberate decision to move Jean Segura, their best position player prospect after Mike Trout, from second base to shortstop last season.
Aybar would easily be the best shortstop on the free agent market after the 2012 season, assuming the D'Backs pick up their option on Stephen Drew, and even then, he might still be.
So what should the Angels do with him?