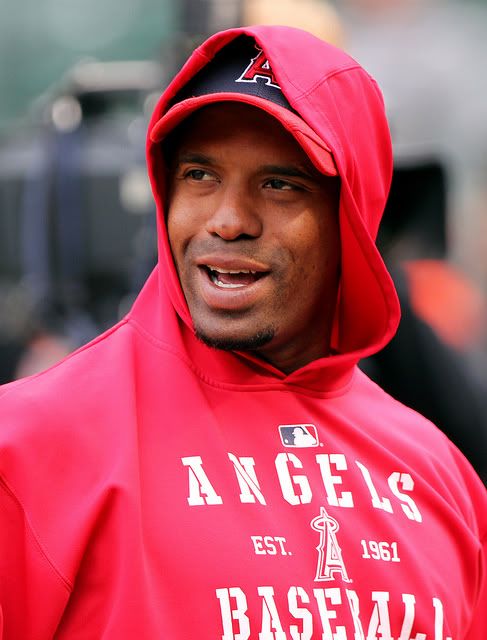 In the next few weeks, the Angels will have to start getting into arbitration discussions with some of their key players. Up next is the incumbent starter at third base, Alberto Callaspo.
Callaspo is coming off arguably his best season in the majors, yet that has still left the Angels and their fans wanting for more. His bat is passable but not really much of an asset. His glove has proven to be solid but one that still doesn't seem to have everyone's trust. He's basically the classic guy who takes nothing off the table but also doesn't bring a whole lot to it. So what should they do?
Here is what we know about Callaspo:
He led the Angels in OBP last season, so that has to make Jerry Dipoto happy.
His 10.8% walk rate was far and away a career-best, suggesting that perhaps his newfound patience at the plate was something of an aberration.
The increase in patience last season also came with a drop in power as his ISO was a career-low .086, which is hard to stomach at a defensive position that normally is manned by a player with at least average power.
In 2011, his platoon splits were practically identical and they aren't too far apart for his career, which makes him an asset since he can play everyday. The Angels are a right-hand heavy lineup, so having someone that can swing from the other side of the dish will help, even if he can't hit for power.
Alberto struck out just 48 times last season, exemplifying his strong contact skills which make him a useful weapon for Mike Scioscia and his propensity for small ball.
Callaspo has just 18 career steals and is, at best, league average on the basepaths otherwise, which might explain Mike Scioscia's reluctance to allow Callaspo to hit in the top two spots in the order where his OBP would be best served.
His defense improved to a pretty good level according to advanced defensive metrics, likely an effect of him getting to focus on one position rather than serving as a utility guy, so it is possible that he could get even better defensively next season.
Off the field, Callaspo has had his fair share of trouble, including a domestic violence arrest and a recent paternity squabble with his former girlfriend/mistress.
The general consensus is that Callaspo will wind up earning a bit more than $3 million via the arbitration process.
So what should the Angels do with him?