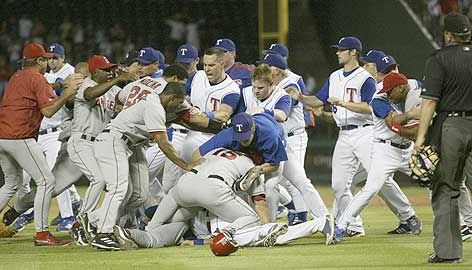 After two straight AL pennants for the Texas Rangers disrupted a decade of AL West domination by the Angels, a great rivalry was ignited. Those flames have only been fanned by the Angels making the epic move to sign Albert Pujols, a move the Rangers countered by paying big money for the right to Japanese sensation Yu Darvish, with a potential Prince Fielder signing looming. Given the state of the rest of the AL West, it is safe to say that Angels and Rangers will be going at each other for the next several years.
There will be bad blood.
There will be trash talk (see Kinsler, Ian),
There will be... incest.
No, that's not some sort of redneck in-breeding joke aimed at the state of Texas (though, I guess, why not?). But rather, it is a reference to the fact that these two teams simply cannot stop poaching personnel from each other.
This sort of thing happens all the time in baseball, but the depth at which it has occurred between LA and Texas is a little bit ridiculous for two teams who are trying awfully hard to hate each other. We know all too well about Mike Napoli going from the Angels to Texas and then C.J. Wilson making the reverse trip this off-season, but there is just so much more that has gone down over the last few years. Here's a quick little history: