Up next in our prospect countdown, the man who could some day be the tallest major leaguer of all time, Loek Van Mil. Acquired at the end of 2010 in exchange for Brian Fientes, the Netherlands-born Van Mil was acquired knowing that he was a major project, but after a strong close to his 2011 campaign, the project looks like it might finally be nearing completion.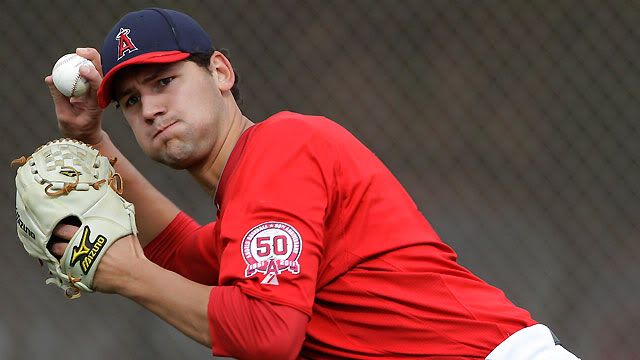 Loek Van Mil
Position: Relief Pitcher Level: AA
Bats: Right Throws: Right Height: 7'1" Weight: 220 lbs.
Age: 27 Born: September 15, 1984
2011 Season Stats: 3-5, 66.1 IP, 2.04 ERA, 53 H, 4 HR, 23 BB, 46 K, 3.95 FIP, .248 BABIP, 1.26 GO/AO
Fastball – A. Extreme downward angle/close release make his 93mph FB hard to square up.
Breaking Ball – B. Slider lacks bite to be a swing & miss pitch, but effective nonetheless.
Change up – C. He rarely uses it, but it's there and was useful for his spot starts.
Performance – A. Numbers were terrific, he seems to have "figured it out". Great in playoffs.
Projection – A good middle to late inning reliever or swing starter.
Comp – Floor: Jon Rauch. Ceiling: Tyler Clippard.
Video - Van Mil pitching in the Twins organization
Estimated MLB Arrival Date: Mid-2012