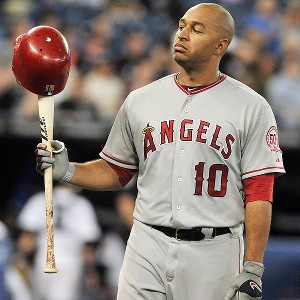 This Spring Training has been a great chance for us to get a taste of what Angel's baseball is going to be like this season. Just TWO WEEKS LEFT until we get to the start of season, only two weeks until we get to see what kind of players our big tickets to the playoffs in Albert Pujols and C.J Wilson will shape into as Angels. Can't forget about some of our Angels that are looking to put together a strong season after a "not-so-hot" year at the plate, like Vernon Wells. Wouldn't it be great if he could put together that .300 AVG, 30 HR, 100 RBI season he promised us? Oh, it would be great to see him come through on that promise, but you know what would be even better? Seeing him flop HARD in the beginning of the season! Not just hard enough to demote him to the bench, hard enough to be released from the team. It's not that I would love to see that because I have some sick fetish for seeing people's lives come crumbling down on top of them, it's more of a necessity to see this happen. Well, maybe not an absolute necessity, but it definitely would be in the Angels best interest for Vernon Wells to play himself off the team this coming season.
Now don't get me wrong, I would kill to see to Wells put up that .300 AVG, 30 HR, 100 RBI season he promised. That being said, it's highly unlikely that Wells will put up such a season, at best he'll probably draw a median between his '10 and '11 seasons. That would come out to a decent season for Wells, but what the Angels need more out of Wells is not a decent season, but an absolute trainwreck of a "season". Give him the first two months or so to play himself out of a job and the Angels will be on track to set themselves up for a huge playoff run, not just for this season but for the foreseeable future. It's probably going to take a Mathis level of ineptitude for Wells to be shown the door, and while it would be horribly painful to sit through that it would be much more painful for the Angels front office to have to work around a revitalized Vernon Wells.
Let's just get the most obvious point out of the way first: HE'S BLOCKING MIKE TROUT THE SAVIOR OF ANGELS BASEBALL!
Whoa there! Let's slow down with the enthusiasm for just a second. While Mike Trout is the coming Messiah of the organization, he probably should be upgraded from "coming Messiah" status to "starting left fielder", but that simply isn't going to happen with Wells around. Jerry Dipoto has already made it known that Mike Trout isn't going to be on the major league roster if he isn't starting, you want a player of his caliber playing every day even if that means keeping him in AAA for a little longer, you can't afford to keep him on the bench. Mike Trout is the kind of player that electrifies the lineup around him, this was extremely evident in his second call up last season; the highlight of that call up being his two home run performance in a 13-6 win over the Seattle Mariners which came in the middle of a six-game hitting streak in which he was batting .400. Mike Trout already went through his initial adjustment to the majors in his first call up which saw him batting a weak .163 in only 14 games, if he came back we wouldn't have to sit around and wait for him to get comfortable and start producing.