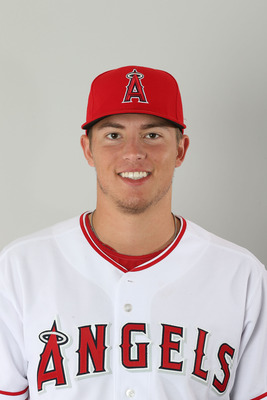 1. Alex Yarbrough will be a Top 5 prospect and finish the season in AA/AAA.
Call it intuition or simply a fool's wild guess, but the scout in me sees something in Yarbrough that I'm not sure many other publications see. His stroke is smooth, direct to the ball, no unnecessary movements. He has gap power but looks like he may have some homerun power eventually. He's athletic and is going to hit for average. I might be going out on a limb here, but I'm really excited about this Yarbrough kid. I genuinely believe he'll hit over .300 this year and climb the ladder fast enough to replace Howie Kendrick by the time his contract expires. I envision Yarbrough beginning the year in the Cal League but being promoted aggressively to AA or AAA around the all-star break, which is incredible given it will be his first year in the minors.
2. Chevy Clarke will have a breakout season
This is where we test the limits of he term "breakout season". By breakout season, I mean that for the first time in his professional career, Chevy Clarke won't disappoint fans who bought the hype following his first round selection. Clarke should spend the majority of the season in Burlington playing for the Angels A Ball affiliate. He'll contribute across the board, accumulating 30 doubles, 15 home runs 30 stolen bases and a .250 average. Most surprisingly, Clarke will collect more than 50 base on balls for the second consecutive season. It won't be enough to land him on any Top 100 Prospect lists, but it should be enough to make him a relevant prospect again in the organization.
no comments