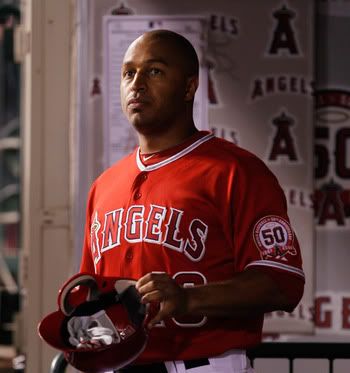 Welcome to Wells Watch 2012, the somewhat regular feature in which we look at the tenuous job status of one Mr. Vernon Wells.
I say somewhat regular because I don't know how long Vernon is going to last on the Angels given that Big Vern's 2012 season is already eerily reminiscent of his disastrous 2011 campaign. I didn't want to start this feature as it seems mean-spirited and possibly even morbid, but when he started the season 2-for-14 with five strikeouts and, to be fair, one home run, I was left with no other choice.
This is the part where Vernon's defenders, assuming there are some any, point out that nobody should jump to conclusions after four games and 14 plate appearances. This is a very valid point, but please allow me a rebuttal. What is so concerning about Wells' slow start is that it looks EXACTLY like his slow start to last season. He is making the very same mistakes that caused him to turn in one of the worst offensive seasons from a starting outfielder in the history of baseball. But the killer is that Wells knows what these mistakes are and yet he is still making them. What were those mistakes? Let's review, because these will be important as this feature carries on into the future, plus their might be a pop quiz later.