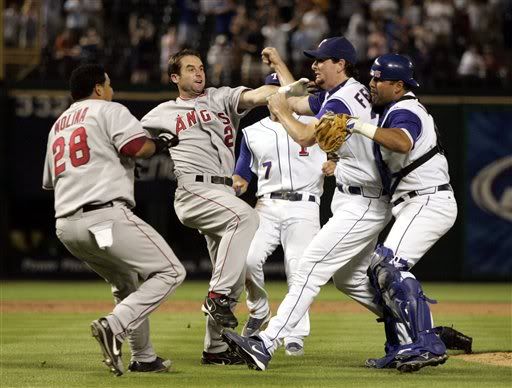 One of the things I love about Twitter is that it makes it so easy to find and talk to other Angels fans. At almost any time of day I can hop on the old internets machine and talk Halos with a vast array of people. Now that I live in Seattle, that is actually very important to me since Angel fans are not so easy to find up here. Long story short, Twitter is great.
Actually, I should say Twitter is great most of the time. One of the unfortunate side effects of it being such an open platform is that it is almost unavoidable to run into people are less interested in having a constructive or fun dialogue and more interested in tweaking rival fans. For me and other Angels fans, that means dealing with Rangers fans.
One Ranger fan in particular has been on my radar for the wrong reasons most of this season, that being Jamey Newberg of The Newberg Report a prominent and respected Rangers blog. Now, I actually follow Newberg because he is a really good blogger, even if it is for the rival team. He's smart, he knows his stuff and is generally a good follow. But it turns out he really likes tweaking the Angels as is shown by his tweets reveling in our bullpen's failures this season and, most noticeably, his #scwatching and #stwatching tweets in which he gleefully announces how many games back the Angels are of the Rangers. If you haven't seen these tweets yourself, and I'm sure many of you have, they are really irritating to have pop up in your timeline mere moments after a Halo loss.
But that's the point, right? Newberg and the hordes of Ranger fans who have followed his lead want to both celebrate their own team's success while also aggravating their struggling rivals. To me, especially at this point of the season, it seems like a bit much. Then again, I am not exactly impartial. But you know who is? Baseball Prospectus' Kevin Goldstein who noticed the #scwatching trend last week and voiced his opinion on the matter.
Sorry Rangers folks, but scoreboard watching in April is kind of gauche.

— Kevin Goldstein (@Kevin_Goldstein) April 20, 2012