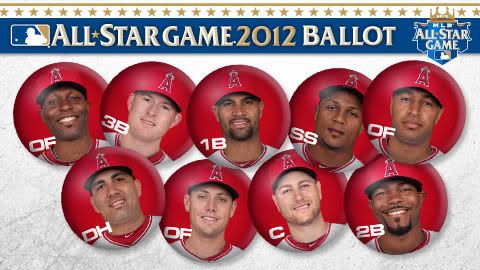 There are less than two weeks left to cast your All-Star ballot. That means that you only have two weeks to follow the Angels' mandate to "Vote Trout" and "Vote Trumbo!"
Doing that is great. I certainly can't blame you for doing it. I love Trout and Trumbo immensely and hope and believe they will make the All-Star Game. But, yeah, you probably shouldn't vote for them.
Say whaaaaaaaaat?
Yeah, I know. That seems counter-intuitive but it is 100% true. Voting for Trout or Trumbo or any Angel for that matter is quite simply a waste of a vote. It is is the MLB equivalent of casting a ballot for Ralph Nader in the upcoming Presidential Election. It might make you feel good about yourself, but it isn't going to make a lick of difference once all the votes are tallied.
As I have noted for the last few weeks, the only Angel who even appears in the voting returns is Albert Pujols, currently in fifth place in first base voting. Trout and Trumbo are nowhere to be seen, which means they are both well over a million votes away from getting into the Mid-Summer Classic. Like I said, you can vote for them if you want, but they aren't going to make up a million votes in two weeks. Heck, they probably won't even make up 100,000 votes. That kind of sucks to say, but it is the truth. Sorry.