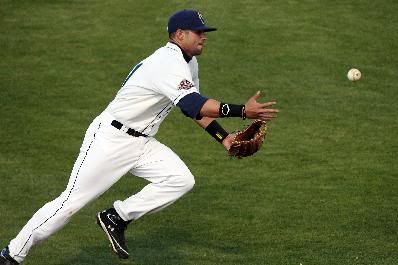 When Jerry Dipoto was hired as the Angels new General Manager replacing the much maligned Tony Reagins, he was asked about his approach in terms of rebuilding a minor league system depleted by trades and promotion. One particular emphasis Dipoto outlined was his theory that of aggressively challenging prospects. The previous regime was by far the most conservative in the major leagues in promoting youngsters. They believed in a slow and thorough progression of prospects.
Take the first eight picks of the Angels 2010 draft, the best opportunity the Angels would have in the entire history of the ball club to build an elite minor league system.

3B Kaleb Cowart - 18th overall pick spends a year and a half in Orem before promotion to Class A.
RHP Cam Bedrosian - 29th overall pick spends over a year rehabbing in Extended Spring and Arizona Rookie Ball.
CF Chevy Clarke - 30th overall spends a year and a half in the Arizona Rookie League before promotion.
2B Taylor Lindsay - 37th overall pick is held back an additional year in Rookie Ball by Tony Reagins. He earned MVP honors before Jerry Dipoto decides Cedar Rapids would be a useless step. Currently the best 2B in the Cal League.
CF Ryan Bolden - 40th overall pick is in his 3rd stint in the Arizona Rookie League.
RHP Dan Tillman - 81st overall pick transitioned to reliever immediately upon promotion to protect his arm and mechanics.
SS Wendell Soto - 111th overall pick is in his 3rd stint in Rookie Ball.
RHP Donn Roach - 115th overall pick is forced into a bullpen role until Dipoto takes over as GM, when Roach is transitioned to starter, dominates immediately and is a key piece in the Ernesto Frieri deal.
By contrast, Jerry Dipoto and his regime didn't get a draft pick until 114th overall this season. Let's analyze where the first five picks are placed so far.