The Vernon Wells domino effect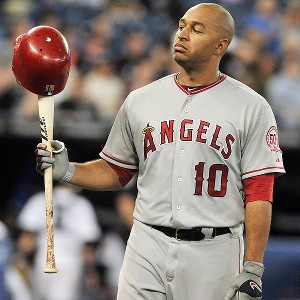 This Spring Training has been a great chance for us to get a taste of what Angel's baseball is going to be like this season. Just TWO WEEKS LEFT until we get to the start of season, only two weeks until we get to see what kind of players our big tickets to the playoffs in Albert Pujols and C.J Wilson will shape into as Angels. Can't forget about some of our Angels that are looking to put together a strong season after a "not-so-hot" year at the plate, like Vernon Wells. Wouldn't it be great if he could put together that .300 AVG, 30 HR, 100 RBI season he promised us? Oh, it would be great to see him come through on that promise, but you know what would be even better? Seeing him flop HARD in the beginning of the season! Not just hard enough to demote him to the bench, hard enough to be released from the team. It's not that I would love to see that because I have some sick fetish for seeing people's lives come crumbling down on top of them, it's more of a necessity to see this happen. Well, maybe not an absolute necessity, but it definitely would be in the Angels best interest for Vernon Wells to play himself off the team this coming season.
Now don't get me wrong, I would kill to see to Wells put up that .300 AVG, 30 HR, 100 RBI season he promised. That being said, it's highly unlikely that Wells will put up such a season, at best he'll probably draw a median between his '10 and '11 seasons. That would come out to a decent season for Wells, but what the Angels need more out of Wells is not a decent season, but an absolute trainwreck of a "season". Give him the first two months or so to play himself out of a job and the Angels will be on track to set themselves up for a huge playoff run, not just for this season but for the foreseeable future. It's probably going to take a Mathis level of ineptitude for Wells to be shown the door, and while it would be horribly painful to sit through that it would be much more painful for the Angels front office to have to work around a revitalized Vernon Wells.
Let's just get the most obvious point out of the way first: HE'S BLOCKING MIKE TROUT THE SAVIOR OF ANGELS BASEBALL!
Whoa there! Let's slow down with the enthusiasm for just a second. While Mike Trout is the coming Messiah of the organization, he probably should be upgraded from "coming Messiah" status to "starting left fielder", but that simply isn't going to happen with Wells around. Jerry Dipoto has already made it known that Mike Trout isn't going to be on the major league roster if he isn't starting, you want a player of his caliber playing every day even if that means keeping him in AAA for a little longer, you can't afford to keep him on the bench. Mike Trout is the kind of player that electrifies the lineup around him, this was extremely evident in his second call up last season; the highlight of that call up being his two home run performance in a 13-6 win over the Seattle Mariners which came in the middle of a six-game hitting streak in which he was batting .400. Mike Trout already went through his initial adjustment to the majors in his first call up which saw him batting a weak .163 in only 14 games, if he came back we wouldn't have to sit around and wait for him to get comfortable and start producing.
If the Angels managed to rid themselves of Wells that would give Mike Trout a legitimate shot at establishing himself as the Angels leadoff hitter, and not just the kind of leadoff hitter Aybar and Izzy gave us last season, he would be the ultimate table setter. He has the speed, he has his amazingly well-developed plate discipline, he even has the same type of leadoff power that made Jacoby Ellsbury an MVP runner up last season, he has everything he needs to make himself a one of a kind leadoff man. All of that talent would greatly compliment a blossoming Howie Kendrick, not to forget the slugging power of Pujols and Kendrys, if he can regain his true ability. Not only would this inject the Angels with much needed fresh talent at leadoff, it would save them boatloads of cash. With a possible Aybar extension looming on the horizon bumping him back down to the bottom of the order, which would take away some of the value Aybar can use to push for a bigger contract. We all know Aybar isn't really legit leadoff hitter, at least he hasn't established himself as one yet, but if he gets the chance to do so he'll rake in the big BIG bucks as the Angels have been desperate for a real leadoff man the past few seasons. Keeping Aybar out of the leadoff hole will save the Angels from overpaying if an extension is in his future, which will benefit the Angels greatly after all the spending they've done this offseason.
I've been working with your brain muscles to get my point across so far, but now it's time for me to tug at the heartstrings. We all know Torii Hunter's time as an Angel is coming to an end even though it's possible he still has a few productive seasons left in him. He's been the face and voice of this organization for some time now, seeing him leave would be a devastating blow to the fan base. He's already stated that he wants to retire an Angel and he's willing to take less money to stay, because he knows it isn't all about the money, it's about winning it all with an organization you've given your heart to the past 5 years. The Angels can't afford to re-sign Hunter with Wells on the team, and not because of the money, because of the outfield logjam it would create; with Wells on the team right field is Trout's most likely destination. If Wells was out the door Hunter wouldn't be blocking Trout, wouldn't the Angels have enough space to keep him? It might seem that way, but there is one more factor that plays into that, a factor far more important than Wells "making or breaking" his career with the Angels. That factor is Mark Trumbo.
If Trumbo can adapt to third base, becoming a competent fielder while not only keeping his offensive production up but improving from last season then Hunter can continue to call right field his home. That would mean bye bye Callaspo via trade as he would become the odd infielder out in that situation, however if Mark Trumbo fails to find his footing at third all while still maintaining himself as an offensive threat the Angels would most likely continue the Mark Trumbo experiment in RF. At best he'd probably look like Vladdy 2.0, though Trumbo has more speed and agility then you would expect from a 1B by trade. If that happens Hunter has no place on this team, even with Wells gone he won't be DH'ing as that would be reserved for a Kendrys and Pujols merry go round, though he could fit into that rotating slot he's already stated he doesn't want to continue his career as a DH, he's lived on his fielding ability and that's where he'll end his career. The only factors that would keep Hunter an Angel until the day he retires is if, aside from Wells losing his job, Trumbo can keep his offensive presence while proving an able third basemen (thus sending Callaspo out the door) or if Trumbo ends up getting traded.
I think that the Angels have enough power in their lineup to compensate for a floundering Wells, while the Angels season pretty much died on Wells back last year it won't be the same story this year. The presence of Pujols along with the other young blossoming starts gives the Angels offense a bigger margin for failure to work with, and while I wouldn't want the Angels to flirt with that margin if it meant seeing Wells leave the organization then so be it. I like Wells as a player (when he isn't so garbage), he definitely deserves to be with an organization he can comfortable play with every day, that organization just isn't the Angels. This whole catastrophe isn't Wells fault, he's just a player trying to do his best with the hand that's been dealt, all this should be blamed on Reagins and his amazing lack of foresight.
Whatever does end up happening with Wells I wish him the best of luck as he is a great role model and a solid major league starter, but the sad thing is...he just doesn't fit as an Angel.
Ryan, have you ever studied Wells' history as a hitter?  We should never have signed him.  The only place he had success, as a hitter, was at the Toronto ballpark.  His batting average last year was very consistant with his average at every ballpark outside of Toronto.  H
e is not a good hitter.  The Angels wasted millions of dollars on a nonperformer.
 @mrcalifornia65 Wells isn't a good hitter because he's far too inconsistent on a year to year basis, his numbers fluctuate far too wildly. The Angels FO, or should I say former FO, tried to replace the power Napoli brought to Anaheim with Wells, and while Wells does have the slugging ability they desired his all around hitting game falls far from expectations. The Angels FO really screwed up with Wells, but at least you know they're dedicated to fixing that mistake after this past offseason.
 I hate to see Tori Hunter's aging career.  He has not only been a good run producer and good fielder, but he's a great guy and the fans at Angel Stadium love him.  I have followed the Angels since their beginning and there have been few people like him.  We are lucky to have him and to have had him for a few good years in his career. 
 @rmfalla  @mrcalifornia65 He might be able to give an inning or two once in a while but, hello? 38 during the '13 season. We'll know more after '12 but it would probably be more fun than helpful.
 @mrcalifornia65 I feel like I'm the only one around here who thinks Hunter could come back and make a solid, if not great, reserve outfielder after the 2012 season. 
Awww, man! Why can't I reply with my iPad? Among the problems for early adopters is that many features don't work quite right. Make a note, never buy the first generation of ANYTHING. I guess my son will get this when I get a new one. Another problem: on my Mid-West tour next week I'm stuck with AT&T 3G service. iPad 2 and 3 allow the additional choice of Verizon Wireless. Bummer for me. Anyway, the only difference we have is what would be best for the team going forward. I still hold hope they can get some use out of Wells while I harbor no such illusions for BA. I agree that Trout would be best suited for left field but if Wells moves to right in '13 to make room for Trout might we be inviting a repeat of '11? Maybe Wells *can* handle right. That would be best since the only player currently in the minor league system who has a chance of being an outfield starter seems to be Randy Grichuk. If he comes along then maybe Wells can be the all-around OF sub.
 @Rick K. I always stay away from first generation goods, I'd prefer to let other people discover the faults with such products so I won't have to inconvience myself. This is why I stay away Apple products, I make it a point not to buy new Apple, I get ripped off enough buying 100 dollar textbooks for each college class (seriously, who expects a brokeass college kid like me to afford that nonsense??)
I myself do think they could still get some use out of Wells, as long as he bounces back from '11. Regardless, he is a highly inconsistent and unreliable hitter, I mean all you have to do is look at his page at baseball-reference.com to see his numbers falling all over the place. He can't keep himself on a steady track, and while yes Wells probably can handle right field I would much rather depend on good old dependable Torii Hunter to work the outfield. I prefer his reliability over Wells occasional flashes of substantial ability. A Torii Hunter that's pushing 40 is still better for not just the team on the field, but the organization as a whole. I don't think Wells needs an unceremonious kick out the door like Abreu has earned himself, but if he plays with even the tiniest hint of his '12 campaign a pink slip on the inside of his locker will not be undeserved. 
 @rmfalla Ok, well, I don't think that's the argument I'd have made. It sounds a lot like Donald Verrilli in front of the Supreme Court, not that I could ever hope to emulate my new personal hero Paul Clement. But let me just point out that Wells' and Hunter's career lines are remarkably similar, with Wells having the teeniest of edges. Hunter is more consistent but lacks the upside of a good Wells year.
Since Torii has been such a good guy I hate to do it but I have to point out that he is also entering the Bobby Abreu Age Zone. A place that hasn't been kind to many batters not named Ted Williams.
Hunter: .274/.332/.417
Wells: .274/..323/.469
Seriously, what are we arguing about? If they have to eject both of these guys they are in bigger trouble than we want to see. Do we really want to see some castoff like Ryan Langerhans out there on a daily basis in the event of an epic fail? Because no high-priced free agent is going to be riding to the rescue. Take a look at the 3A and 2A rosters. We better darn well hope someone under the age of 38 is in the outfield in the summer of '13.
 @rmfalla Funny, I was just writing to you on your comment about Hunter becoming a reserve when this popped up. I guess that could work but he'd have to take a monster pay cut to be worthwhile. I'm guessing the days of giving some dude, like GMJ or BA, a bunch of money sans return are in the past. "Never"? Seems to me they once had Tim Salmon, Garret Anderson and Jim Edmonds in the minors, but I digress.
I don't think they can take on an expensive FA outfielder. Usually, you end up with the leftovers. Like the afore-mentioned Ryan Langerhans. I'm also not thrilled with just giving some guy a shot, especially for a starting position. I just asked my fortune-telling 8-ball if there was a sure thing outfielder in the minors and it said, "Check again later." That doesn't inspire intense confidence.
I think I'll just keep cheering for VDub to do well. Some people just seem real invested in our own players failing. I'm not *hoping* BA fails, I just know it's inevitable and that his time here should have ended last September. How did this discussion get spread across two posts?
 @Rick K. I would actually consider Hunters reliability a better upside than an at-his-best Wells, because he can only hold that up for so long. But at this point we're just arguing apples and oranges, aging apples and oranges at that. The Angels never really have a big catalogue of players to choose from in the minors, but they always find a way to make it through. I'm confident if they can't pick anyone up in the FA pool they'll have someone in the minors who deserves a shot at the big league roster
Sorry, I can't agree with this wish-upon-a-star in any way, shape, manner or form. I'd much rather they jettisoned Mr. Team Guy, BA, and let Trout take his spot. In that way he could get 3-4 starts a week spelling the old guys and even give Bourjos a rest once in a while. I'd much rather they concluded this would be the way to go right from the beginning of the season, though, so those old-timers don't even show a hint of tiring.
I'm still not seeing what the people see who want to have Trout starting in center field, although that chatter seems to have died down quite a bit. Center overexposes his slightly underpowered arm but we should be able to live with it once a week or so. Also, his poor little legs look like they are churning at twice the rate of Bourjos' to get the same result out there. He could need knee replacement by 30 if he's in center all the time! Lastly, it doesn't look to me like he's getting the same jump on balls that Bourjos does. Just leave Bourjos in center and let Trout take over full time for Hunter next season. Some day maybe Randy Grichuk can take his place and Trout can go to left, where he looks best suited to me.
 @Rick K.This isn't supposed to be some wish-upon-a-star lets cross our fingers and hope Wells fails so all this can fall into place kinda thing, I'm trying to get the point across that this would be the best course for the Angels should it happen and how the pieces would fall together should it happen. This isn't supposed to be a Trout centric article, I think you focused too hard on that and overlooked the other benefits I pointed out. 
I do think that Trout is better suited for LF since it would take a lot of reliance on his arm strength instead allowing him to focus on just playing the field. I'm not sure if he can control the running game so well from RF, I'd rather have tried-and-true Hunter roaming that position and if Trout is moved to RF he'll at least have a great mentor with Hunter.