Game Recap 6/24/12: Trambopoline - Angels 5, Dodgers 3
From what I heard, today sounded like a fun and interesting game. However, all I did was hear it. Seldom ever do I miss a Freeway Series game, but today my fatherly duties beckoned, leaving me with task of putting together a trampoline to surprise my daughter for her third birthday. But fret not, I was still able to listen to the game over the radio feed (the Dodgers one so I could hear Vin Scully).
In the 1st inning I learned that there was a "high sky" and that sky resulted in a few "sun singles." These are sayings that only Vin Scully can utter and not sound like an utter tool.
In the 2nd inning I learned that instant replay may not be necessary after all. Peter Bourjos had a clear fair ball that the umpire botched and called foul. Instead of a double, Speedy Petey got back in the box and launched a two--run jimmy jack.
In the 3rd inning I learned that the stupid T-joints that attach the legs to the frame are really freaking difficult to close. Like REALLY hard. This is going to take forever.
In the 4th inning I learned that I probably should have picked up the dog poop in my yard before I started this project.
In the 5th inning I learned that Vin Scully hands the mic over to Gary Thorne. This is not a good thing. I have nothing against Gary Thorne, but he ends up repeating a lot of the same facts and notes that Scully used during his segment and he just isn't as good as Scully is at rattling them off in an interesting way.
In the 6th inning I learned that after his second extra-bae hit of the game, I might need to re-start the Free Peter Bourjos campaign.
In the 7th inning I learned that this game might need to go extra innings because I miscounted and hooked up some of the mat springs one hole over from where they were supposed to attach. I'm not very good at putting stuff together, but I already knew that.
In the 8th inning I learned that Kevin Youkilis will get to wear a different colored pair of sox.
In the 9th inning I learned what we all had been suspecting, the Angels are officially better than the Dodgers this season... again.
Game Notes
Not a tremendous outing for Garrett Richards, but still plenty good for a rookie. It was very encouraging to see that he bounced back so well after giving up runs and looking hittable early. Then again, if you take Andre Ethier out of the Dodger lineup and it is an absolute joke. This is something of a trend for Richards who has made four starts against largely lame lineups. He could be good, but let's see what he can do when he has to pick on someone his own side.
Again, I didn't actually see it, so maybe I'm off-base, but I think Mike Scioscia actually lost his cool and got ejected in a rarity. Normally his ejections seem to be strategic, but when he got tossed on the call at third base, I don't think that was the case. There just wasn't any advantage to be gained there. He wasn't going to fire up the players. He wasn't going to win over the umpires or convince them to pull their heads out of their butts. Maybe he would get the crowd going, but mostly I think he was just brassed off that the umpires blew another call.
Halo Hero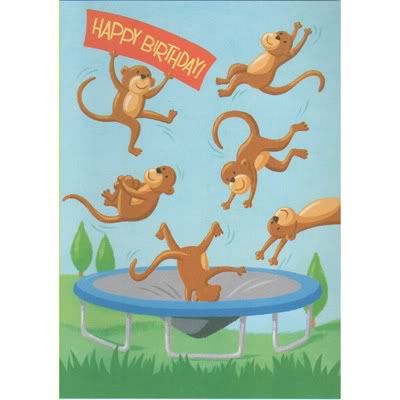 ME!!!!! I successfully put the trampoline together and will soon have one very happy little girl. However, I reserve the right to backdate this award and give it to Peter Bourjos should the trampoline collapse on itself and send my daughter to the emergency room. It is a 50/50 proposition at this point.
Yes, those calls by the second- and third-base umps were tough. And, yes, they were both of the variety that were so darn close that neither would probably be faulted for making the call either way. It's pretty rare that Scioscia is wrong when he challenges an umpire's call but, in this case his vision had to be clouded by a red haze after having to sit through Bill Miller's crap. Turned out Iasoggna was right (by a hair) and Scott was wrong (by a hair) but at third the standard umpire's position gave Dan a good view while at second the standard position gave Dale a bad view that must have made the runner look out. In Bill Miller's case, he was in the right position for the play at first but must have been looking at some babe over by third or something. It was a GREAT play that he never saw. That fly ball was a case where Miller just stood there, Cadillac-ing it in a way that would have made Milton Bradley or Carl Everett proud. I see umps move up the line regularly but Miller had grown roots at that point. Miller goes through these stretches annually, it seems, where you hear about him in the middle of controversial plays for days at a time. Maybe he needs to look into a new line of work. Or go on the DL. Or something.
Scioscia didn't really look all that incensed, Mr. ™, but the Bill Millerness of the day must have lit his fuse much earlier. It looked pretty calm when Dan Iassogna tossed him so Sosh must have said a magic word. Or maybe he just asked if he could have the rest of the day off.