Tweeted By an Angel: Torii Hunter = Law Abiding Citizen, La-Z-Boy Toilets, Hank Conger Really Doesn't Like the Kardashians
Another week, another collection of the best tweets (term "best" used loosely) from LA Angels players and personnel. This week, Torii Hunter teaches us to respect the police, prospect Jon Karcich has a great invention and Hank Conger can't hide his hate for the Kardashians.
Torii Hunter never stops being a role model... I think:
I don't run from the PO PO NO MO. I am a law abiding citizen. Southland put the old me on their show. Lol

— Torii Hunter (@toriihunter48) January 25, 2012
I don't watch Southland, so I have no idea what this is in reference to, but I am pretty sure if Hunter runs from the police like he steals bases, they would definitely catch him. ZING!
---
Angels prospect Jon Karcich already has a fallback plan in case this whole baseball thing doesn't work out:
One day I will invent a Lazy Boy toilet and be rich.... And comfortable.

— Jon Karcich (@Jkar6) January 25, 2012
Sorry, Jon, but as with most great ideas, the Simpsons already did it.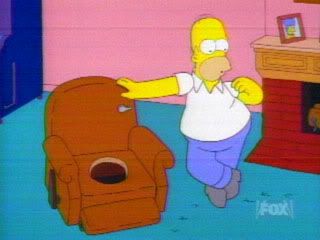 ---
The more Hank Conger tweets I read, the more I realize that he is the voice of the people:
I'd rather bite the curb and be forced to watch the Kim kardashian wedding episode than watch @MichaelKohn58 hit his wedge shots. @bw46

— Hank Conger (@HankConger16) January 26, 2012
Wow, Michael Kohn must be really bad at golf because I have seen the Kardashian wedding episode and I can't imagine a worse fate, even without having to bite the curb.
---
And finally, we check in with Chevy Clarke who actually teaches me a little something this time:
Mom dukes gets more emotional the older I get

— Chevez Chevy Clarke (@OfficialChevy) January 26, 2012
"Mom dukes" is apparently a real slang term. Why you can't just say "mom" is beyond me, but at least Chevy is using real terms now. This is progress.
I've given up trying to figure out what Chevy is attempting to communicate. Now I'm devoting my life to understanding the difference between a "real slang term" and a fake slang term.
Well, I'll ponder that when I'm not trying to understand the dynamics of Winchester Super Target powder and why it's not listed for use with 9mm loads. Don't tell me "burn rate", WST isn't that far from Clays on the chart yet there are listings for several bullet weights in the Hodgdon loading database for Clays. Well, you could tell me but I wouldn't buy it.
See? The mysteries of the universe are limitless.