Game Recap 4/29/12: Glory Hole - Indians 4, Angels 0
So much for that return to glory I was talking about in the game preview. Instead, the Angels dug themselves even deeper into their hole, so I suppose you could call it a glory hole. If you think about it, that moniker makes sense because the Angel season is pretty much screwed now too. Wonderful.
Well, I guess we should probably be happy that Ervin Santana pitched well, but these searches for silver linings are proving more and more fruitless. I mean, what is the point? Why should I try and stay positive about a team that just got shutdown by Derek Lowe, who apparently is still in the league, which I did not realize. Why should I try and stay positive about a team that loses in new and creative ways every day? Ervin Santana finally doesn't give up a homer, but he still loses because Torii Hunter loses a ball in the sun?1?!?! Really? REALLY?!?! REALLY?!?!?!?!?!?!!!?!!??!
I give up.
Game Notes

Ervin Santana definitely seemed to get back on track today, which is great news because it means there is now one less problem on the Angels checklist to worry about. One down, 378 to go.
It is nice to see that Kevin Jepsen hasn't lost his gascan yet. I'd question why he is still even on the roster, but then I realized that it would require the Angels to have an alternative to him somewhere in their farm system, which they don't. Thanks again, Tony Reagins, your brilliant development of minor league talent is like the gift that never started giving.
Would anyone really be opposed to Maicer Izturis taking over as the primary shortstop for a little while? At some point some of the players who aren't producing need to be benched for those that are. But that would be more lineups, which I am against. Ugh, I can't even get my head around trying to find solutions for this team anymore.

Halo A-hole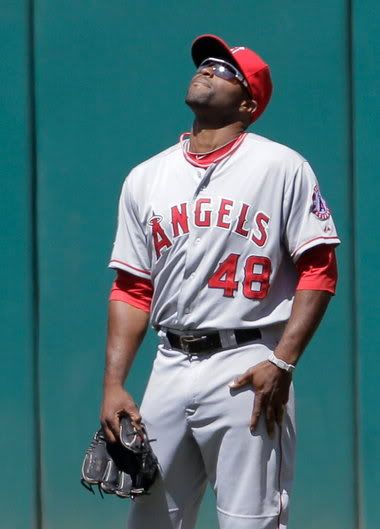 Torii was probably the best Angel this series, but that dropped flyball killed them in this one. Or maybe not, I have the feeling that the Angels wouldn't have scored at all today, even if the game went 29 innings.
Alden Gonzalez had the best Tweet after the game. Something like, "We've officially entered the I-can't-wrap-my-head-around-what's-happening portion of the season." And it's true. Sure, there were predictions wondering where consistent offense was going to come after Albert's spot in the lineup but this is just amazing! And even considering Jepsen and the E, four runs by the oppo should NOT be insurmountable. It's not like the rest of the lineup is minor league level. OK, maybe Jepsen. And Callaspo so far. And if Conger wasn't on the DL, maybe Wilson would get replaced.
I also had some high hopes early in the game when the Indians had one error and the Angels had none. It's a darn good thing the poor fielding by the Angels isn't a problem. I know it's true because I heard it on Twitter. They had a pretty good stretch there and, even with the two errors, their fielding percentage is up to .983 based upon fourteen errors. Without any scoring, though, that good stretch only resulted in the team staying close enough to lose by one run. With the errors they lost by four. There is still no aspect of the game that is working for the Angels on a consistent basis.
And no, I didn't forget Boujos up above. But Trout has already made two fielding mistakes in two games so maybe we really CAN'T live without Petey in center. Yes, yes, I know; Trout made one in left but I hope you see my point. He's a little too exuberant right now. AND he hasn't hit yet. The non-hitting and questionable fielding seems to be contagious. I can't wait to see him run into a double play tonight to highlight some poor base running. Why not go for the trifecta?