Game Recap 5/8/11: Any Lead Your Pen Can Blow, We Can Blow Better - Angels 6, Indians 5
I thought I was watching a pitchers' duel today, as expected, but then a game of "any lead you can blow, I can blow better" broke out. By the final innings of the game, it didn't even seem like anyone wanted to win. Alas, the Angels proved victorious and won their second series of the season against the best team in baseball.
I'm going to try not to get off on too much of a diatribe here, but if Scioscia lost patience so quickly with Rodney's rough start to the season as a closer, how long will it be before he loses patience with him as set-up man?
For those of you not keeping score at home, Fraudney has now allowed runs in five of his last seven appearances and he was lucky to not end up the Halo A-Hole tonight. To put it mildly, he has been awful and probably doesn't even deserve to be on the active roster, much less pitching in the late innings of close games, yet it doesn't sound as if Scioscia is even considering a switch.
I can see why that is, but I don't like it. When Fraudney got fired from the closer job, it was done so quickly because Walden was waiting in the wings. Now though, there is no heir apparent to the righty-setup man role. It should be Kevin Jepsen, but he still is getting knocked around in Triple-A. It could have been Michael Kohn, but he's still in the minors (though looking pretty good) and has a long road ahead of him to earn back Scioscia's trust, much less get promoted again. That really just leaves Rich Thompson, who I like very much, but it is probably too much too soon for him in the eyes of Sosh.
If Fraudney continues to let leads slip away, Scioscia might just have to bit the bullet and make a change though, even if he doesn't like his alternatives.
Game Notes:
I wish scorekeepers had the power to assign wins to someone else when the winning pitcher according to the standard rules clearly doesn't deserve it. Seriously, Rodney did absolutely nothing to earn this win and yet he gets the credit. Surely there must be some way to give scorekeepers the discretion to assign the win elsewhere.
Once again, the bottom of the lineup led the charge. I get not moving the kids up in the order to spare them from the pressure, but this is really becoming a trend.
OK, back to piling on Rodney. With Fraudney so clearly not on top of his game, why only use Downs for one batter? It wasn't like there was a real platoon advantage. Cabrera is a switch-hitter who hits lefties better, but isn't very dangerous from either side. Choo is a lefty and the best hitter on the team. Santana is also a switch-hitter, but one that seems vulnerable to lefties in his young career. This is absolutely an inning Downs should have pitched. No ifs and or buts about it.
Halo Hero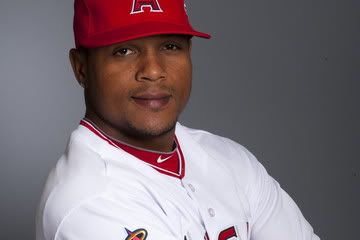 Win the game and bail out the bullpen, sounds like a Hero to me.
Nice comeback, guys! While it was lousy that Haren couldn't get the win there were some fun positives here. First, the kids at the bottom of the order went 6-for-11 with a walk. That will get it done and when good things happen it seems like they happen with the kids figuring prominently.
Second, it looks like the frenzy hitting has returned. Seven hits and a baserunner via error in the sixth and eighth innings. Pretty terrific and just like the "old" days of the last decade. The frenzy hitting phenomenon made the Angels one of the most fun teams ever to watch.
Third, that baserunner who reach thanks to Everett's error was pretty darn important as he would have been the third out of the inning if he had struck out. And striking out is something Vernon Wells has excelled at on this home stand. This AB should serve as an object lesson to Wells that he has no chance of helping the team if he does not reach base. Yes, I realize the theoretical possibility of reaching first after a strikeout but, really, how often does that happen? Just get the damn ball in play!
And we can't fault Fraudney for his evil master GIDP plan going awry again today. He went to a lot of effort to get the leadoff runner aboard. After that, it was just bad luck that gave him both a BS and the win. Anyone else deserved that win more than he did.