Top Ten Thursday: Overheard Comments During the Angels Emergency Airplane Landing
As you may have heard, the Angels had to make an emergency landing on their flight home from Kansas City. I think we've learned from movies like Almost Famous that near-death experiences often lead to spontaneous declarations being made by the airline passengers. As always, the Monkey With a Halo quadruple top secret, totally not pretend as far as you know microphones were conveniently in place to capture the panic during this near disaster, allowing us to present you with the top ten comments we overheard during the emergency landing.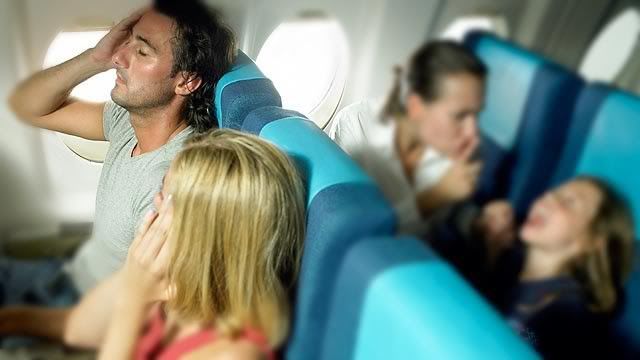 No, we can't die now! We never got to see Mike Trout play!!!!

Bobby Wilson - "No, that's OK, Jeff. I don't think you need a seatbelt for a crash landing. I'm sure you'll be just fine and I won't continue going three weeks between starts. Just sit back, relax and ride this little 'plane crash' thing out."
Alexi Amarista - "Stewardess! Stop trying to give me the child's life jacket; I'm 22, I swear!!!"
Rich Thompson - "I told you blokes we should've flown Qantas! No crashes ever!!!"
Anonymous - "So, we're all in agreement that if we crash in the mountains and need to resort to cannibalism, we eat Trumbo first, right?"
Russell Branyan - "I knew I should've signed with the Mariners again instead."
Mike Scioscia - "We'll be fine as long as the pilots focus on fundamentals and their situational flying."
Tony Reagins - "In case we die, I have to make a confession. I only made the Vernon Wells trade because I lost a bet."
Jeff Mathis - "Are you kidding me? I hope I die. This might be my only chance to end my career with an average above .200!"
Erick Aybar- "Is something going on with the plane? I thought I heard the pilots say something, but I wasn't really paying attention... as usual."
Anonymous - "I don't know how, but I'm pretty sure this wouldn't be happening if Rodney would just put his f@$#ing hat on straight. It's bad karma, man!!!"