Cactus League Conundrum: Which Angels Are on the Roster Bubble?
The Angels may not have had a blockbuster off-season, but they still managed to fill out most of their roster already. That being said, there are still two or three roster spots that need to be filled and there is surprisingly crowded field of competitors for those jobs (I guess that is what happens when you fail epically in free agency). So, which Angel players and prospects are on the roster bubble this year? And what are their odds of having their bubbles burst, sending them tumbling back to the minor leagues... or worse?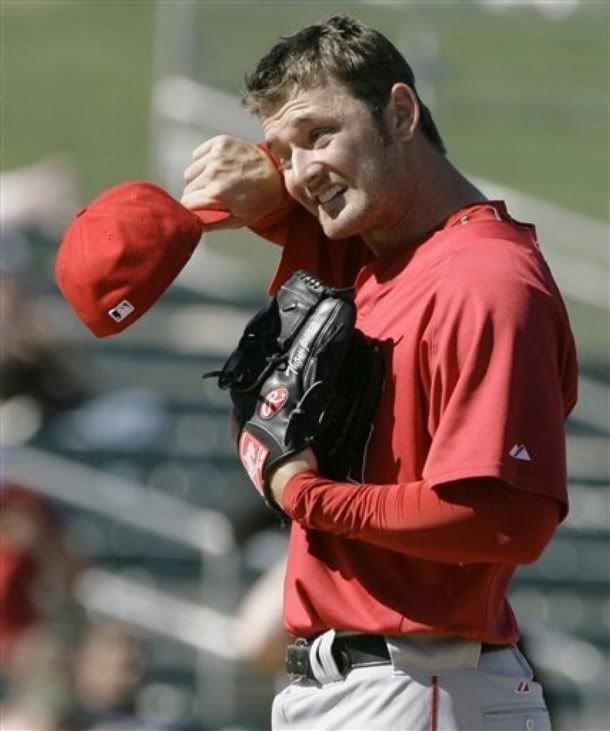 I'd be sweating too if I was out of options and working on my fifth attempt to make the big league club and actually stick there finally.

Hank Conger - Hank probably should be the starting catcher for the Angels this season, or at least be guaranteed of splitting time with someone, but in Mike Scioscia's world, catchers are all held to different standards. There is little doubt that Conger would be the best offensive option at backstop, but his developing defense is going to be very hard for Scioscia to tolerate. Really, Hank's only shot at breaking camp with the team is if he is just devastating with the bat in the spring. Even then, he still might need Sosh to change his mind about carrying 12 pitchers and opt to carry three catchers instead. Odds of bubble bursting = 75%
Chris Pettit - Pettit really only makes this list because the organization was quite fond of him as a potential bench option back in 2009 and because he is the only other semi-viable outfielder in camp. However, the Angels have bigger needs than adding another reserve outfielder. It is probably for the best though as Pettit needs to get some playing time in the minors to get back into form since he missed all of 2010 with a torn labrum. His only realistic chance of making the roster is if the Angel outfielders are ravaged by injuries during Cactus League play. Odds of bubble bursting = 99.999999999999999999999999%
Mark Trumbo - There is an obvious need for the Angels to add some power to their bench, and Trumbo has more than enough power to foot the bill. Trumbo is also the only natural first baseman that the Halos have on the 40-man roster (although he is pretty poor defensively), making him an ideal back-up to Kendry Morales, who might need someone to spell him regularly since his ankle is not yet 100%. Alas, Trumbo seems like he will at least have to start the season back in Salt Lake since the Angels are likely to go with 12 pitchers, leaving no real roster spot for Trumbo to take. Odds of bubble bursting = 85%
Bobby Wilson - With Mike Napoli gone and Hank Conger still in need of some seasoning, Wilson seems like a shoe-in for the backup catcher slot. His defense is definitely up to Scioscia's lofty standards and he might even be a better hitter than Jeff Mathis (which isn't saying much). If Conger has a strong spring though, Wilson could be in trouble since the Angels aren't going to cut Jeff Mathis loose to make room for the rookie. What might actually save Wilson though is that he is out of options and the Angels think too highly of him to just expose him to waivers and risk losing him for nothing. Odds of bubble bursting = 10%
Brandon Wood - Nobody would blame the Angels for giving up on Wood after his horr-awful 2010 campaign, but given his pedigree and positional flexibility, the Halos are likely to give Wood one more season to prove whether or not he is going to be a useful major leaguer. It also doesn't hurt that the Angels are still so desperate at third base that some (not me though) actually think Wood has a shot at reclaiming the starting job. If Wood looks like he is still going downhill this spring, they still probably won't waive him, but it wouldn't be a shock to see if they can't trade him for ten cents on the dollar. Odds of bubble bursting = 1%
Trevor Bell - Bell has just two routes to making the Opening Day roster. The first option is Mike Scioscia wanting a long man for the pen because he wants to use Takahashi as a LOOGY-type. That really isn't Scioscia's style though, so don't count on that coming to fruition. The more likely route is if any of the Angel starting pitchers gets hurt or, more likely, Scott Kazmir absolutely implodes, in which case, Bell is probably the next in line for a rotation spot. I'm no Kazmir fan, but I wouldn't hold my breath for that option either. Odds of bubble bursting = 95%
Jason Bulger - Bulger struggled through 2010 as he battled shoulder problems, something that has plagued him throughout his career. When he is healthy, like in 2009, Bulger showed that he can be a highly effective reliever and possibly even a primary setup man. It will certainly help Bulger's odds of breaking camp with the team if they stick to their plan to carry seven relievers, but Jason is going to have to prove himself to be totally healthy if he is going to get one of those relief spots. Bulger might be behind the eight ball a bit though since he is 31 years old and competing against much younger candidates. Then again, Bulger is out of options, so the Angels have to carefully consider whether or not any youngster is good enough to merit cutting Bulger loose. Odds of bubble bursting = 33%
Michael Kohn - Michael Kohn dominated the minors last season and rocketed all the way to the majors where he was rather inconsistent, but still finished with a respectable line. He has plenty of potential, but what he possesses in potential, he lacks in command, making him a candidate to go back to Triple-A to refine his quirky delivery. What might actually damn him though is the mere fact that he still has options left. Odds of bubble bursting = 70%
Matt Palmer - Palmer is in the exact same situation as Bell, only he's older and fatter, so the Halos would have to see something special in Palmer (or horrible in Bell) in order to have him leapfrog Bell on the depth chart. Palmer has a new, cleaner delivery, but his best role is still probably as Triple-A roster filler and an emergency option for the majors. Odds of bubble bursting = 98%
Francisco Rodriguez - The "other" K-Rod was a surprise contributor to the beleaguered 2010 Angel bullpen, surprisingly earning nearly 50 innings of work last season, despite mixed results. Rodriguez is probably the least talented pitcher of this bunch, but Mike Scioscia seemed awfully fond of him last year, though maybe not for the right reasons (i.e. attrition). If K-Rod v2.0 has one thing going for him that the other relievers don't, it is that he is comfortable pitching more than one inning in an appearance. Odds of bubble bursting = 95%
Rich Thompson - Everyone's favorite Twitter-using, Australian Angel relief pitcher is at a crossroads in his career. Thompson was nearly unhittable in the minors last season (0.61 ERA) thanks to a new cut fastball, but he might have worn out his welcome with Scioscia during his previous years with the big league club in which he was generally awful. Rich did end up putting up quality stats when he finally did get a shot in the bigs last season, but it took a long time for Scioscia to give him that shot even though he deserved it much earlier. Assuming Thompson isn't out of chances already, he could use a combo of a strong spring and the fact that he is out of options to coerce Scioscia into giving him the final roster spot. Odds of bubble bursting = 50%
Jordan Walden - Considering that Walden is a dark horse for the closer's job, it would be hard to imagine him not making the team, but Jordan also might have overachieved during his brief MLB debut last season. He has had command issues in the past and if those issues resurface in the spring, the Angels might make the tough call and send him down to Triple-A to make sure he gets straight and doesn't risk damaging his confidence in the majors. But, c'mon, the dude throws 100 MPH, he has got to stay, right? Odds of bubble bursting = 0.01%