How Much Is Aramis Ramirez Worth to the Angels?
What is going on with Aramis Ramirez? First the Angels say they don't want him, then they are rumored to be on the verge of making him an offer, then they admit they have interest, but only in a cursory sense. Should the Angels even pursue him? If so, for how much? And for how many years should said offer be?
Not that it is going to make a lick of difference to Jerry Dipoto, but today I leave answering those questions to you, the fans.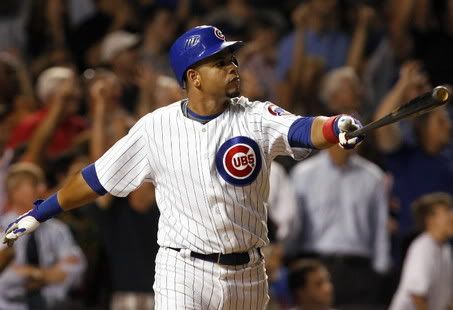 Depending on who you ask Ramirez could be the best or the worst signing the Angels could make this off-season.

PRO: Aramis Ramirez is really the only available third baseman with good power and the Angels REALLY need someone with some power at third base.
CON: He doesn't have very good patience and the Angels REALLY need to add some patience to their lineup.
PRO: Since 2004, he has batted under .289 only once, somewhat mitigating his below average walk rate.
CON: He has a frying pan for a glove and zero range at third base, somewhat mitigating his offensive contributions.
PRO: Since 2003, his ISO has never dipped below .193, so even when he isn't hitting for average, the power has still been there.
CON: He might be an asshole, so when he is playing well, he could still be hurting the team.
PRO: He struck out just 69 times in 149 games last season, making him a potential "action" guy for Mike Scioscia.
CON: Prior to his fine contract season in 2010, he posted a 2.2 WAR in 2009 and 0.4 in 2010, making him a potential bust of a signing once he gets paid and stops caring.
PRO: He will turn 34 this season, so he probably still has another good season or two left in him.
CON: He will turn 34 this season, so he probably ONLY has another good season or two left in him.
Sorry for my absence from the commenting platform....ya know, I was all about getting this guy until reading this article. All of the "cons", in my opinion (aka, IMO) outweigh the "pros". That may be too conservative of me but after the Vernon Wells contract, the last thing I wanna see us do is pay a guy $12MM-$13MM a year to be an a$$hole who is impatient at the plate who can barely get the ball to first base....I pass.....
@azhalofan With all deference to Mr. The Monkey's poll selections, I was thinking that if he went beyond $12MM for TWO years he would cost too much!
Hey, AZ, for even more detail check out Mark Saxon's blog post on Ramirez at ESPN LA. It pretty much sums up the negative baggage and makes a very realistic power prediction for him in Anaheim. I agree, I don't think his game will play well there. Since that huge 2006, he's averaging under 24 HR's a season playing the majority of his games at Wrigley! That marine layer will turn him into Gary Redus, nothing more than warning track power. I'm not *juiced* suggesting anything *juiced* here but *juiced* but go get your big bux somewhere else, Aramis!