Deep Thoughts On the Angels Trade For Chris Iannetta
Now that we've had a night to sleep on the Angels big trade (and, yes, it is a big trade) for Chris Iannetta and had time to give it some actual deep thought rather than just some gut reaction, it is time to do some deeper analysis on what this trade really means to the Halos.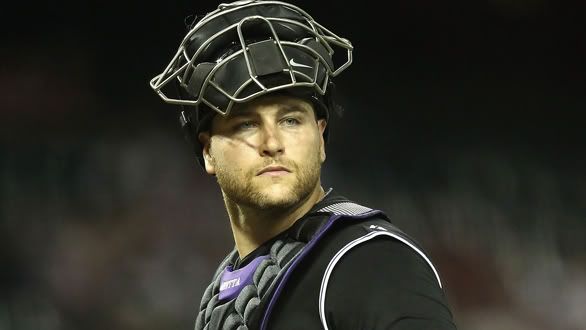 Is Iannetta really the new starting catcher for the Angels or is he just being brought in to take Mike Napoli's spot in Mike Scioscia's doghouse?

Nobody has said this out loud yet, but I think everyone is thinking it: this is Jerry Dipoto throwing down the gauntlet and proving he really is in charge. Catcher has always been Scioscia's extra special sensitive spot, which is why the Napoli debacle unfolded in the first place. But in Iannetta, Dipoto essentially undid that Napoli trade and put Sosh back in the position of having to play a catcher who may not be up to Scioscia's defensive standards. Heck, Iannetta's even Italian like Napoli too. Now, Chris probably isn't as good as Naps, but he still is a catcher better known for his bat than his glove. We are all assuming that Iannetta is now the Angels' full-time catcher, but that assumption is only valid if Scioscia plays along. Do we really think he is above starting Bobby Wilson over Iannetta? Admit it, your getting nervous about it now.
Speaking of getting nervous, there is a chance that Mathis might stick around. Dipoto keeps refusing to comment on whether or not he'll tender Mathis a contract, but until he does it, we can't sleep soundly. If there is a surefire sign that Scioscia is still flexing his behind-the-scenes muscle, it would be

forcing

convincing Dipoto to keep Mathis around as a defensive insurance policy to Iannetta. December 12th can't come fast enough.
I officially no longer believe the Angels' pursuit of C.J. Wilson is a ruse. What does this have to do with the Iannetta trade? Well, because the Angels just gave away some of the very little starting pitching depth that they have in Tyler Chatwood. With two rotation spots to fill, the Angels now have just Jerome Williams and Garrett Richards (and maybe Trevor Bell) as in-house options to fill those spots. There is no way they are comfortable with that. There is only slightly less of a way that they are comfortable with that if the fourth starter that they bring in isn't a highly reliable pitcher, like Wilson. Let's be honest, Williams is probably the fifth starter. That means Garrett Richards is the ONLY back-up plan for the rotation and he doesn't seem to be ready yet. That should preclude the Halos from rolling the dice on an injury-prone guy like Erik Bedard or Rich Harden if they can't get Wilson. Even Hiroki Kuroda isn't a safe bet due to his age. That makes Wilson almost a must now.
I still can't quite figure out what this means for Hank Conger. It definitely makes him more available via trade than he was before, but I can't quite bring myself to say that they are definitely going to deal him away. He has a lot of value right now, so they could get a very nice return for him. But if they stow him away in the minors for another season, it is only going to hurt his value. At the same time, hanging onto him for another year is a smart move because there is a more than remote chance that Iannetta ends up not succeeding in Anaheim. On the other hand (I think I already ran out of hands, but whatever), the Angels probably weren't giving up an arm like Chatwood just so they could rent Iannetta for one year.
Here is one added little wrinkle to Iannetta's addition, he can play first and third. I don't know if he can play either position competently, but he has played a handful of innings at both positions in the majors. What if the top secret plan here is to have Iannetta start 80 games at catcher and another 25 at third base? That would give the Angels a chance to keep Hank Conger in the majors and have him play with a fair amount of regularity. For the record, I think this scenario is HIGHLY UNLIKELY, but it isn't entirely out of the question. I just have a hard time believing Scioscia could stomach 162 games of average or worse catcher defense. Actually, I just found his minor league stats, and he didn't player either position in the minors, so let's just forget I said anything.
There are some people out there trying to rain on Iannetta's parade. His vaunted OBP is supposedly inflated by the fact that he hit in front of the pitcher quite a bit. There is some truth to that, but it doesn't mean his patience is a total mirage. His walk rate in his career as an eight hole hitter is 15.2%, but for every other spot in the order it is 12.8%, which is still pretty damn good. But think about this too, no longer hitting in front of the pitcher cuts both ways. Teams will pitch around him less, but that means they will be giving him more hittable pitches too. So his walk rate might drop, but he will get more opportunities to swing the bat, which is a good thing considering his power. Wow, doesn't it feel good to have a catcher that you actually want swinging the bat?
This is the part where I want to say something to allay concerns about Iannetta's home-road splits. The best I can come up with is that they aren't as bad over his career as they were in 2011. After that... I got nothing.
I'm having trouble finding anyone who doesn't like this trade. I mean, seriously, if KLaw "likes" it the rest of the free world must LOVE it!
I'm puzzled by Conger's fit in the big picture, too. But if he is the backup and a little DHing, he might get more regular ML work than he did last season. The whole forgetting-about-him-for-long-stretches thing didn't help him a bit.
@Rick K. I've thought more about Conger since I wrote this last night. I think the optimal plan with him is to send him to Triple-A where he can work on his D and stockpile offensive numbers, thus building his trade value. It also allows the Angels to get a grasp on whether or not they want to move forward with Iannetta after 2012. If they like Iannetta, they can move Conger at the deadline for whatever they need at that time. If they don't like Iannetta anymore, they still have Hank around as an insurance policy.
@monkeywithahalo@Rick K. I've gotta say, I'm one of those who didn't like very much this trade. You guys know I'm not one of those who buys into AVG, I'm totally on OBP, just as DiPoto. What scares me, though, is that Iannetta may prove to be a lie outside Utah, as everyone knows he played on a hitter's heaven. Yet, back in 2008, he was better playing far from home than at Coors Field. So, looks like it may prove to be coincidence.
@alansmafra@monkeywithahalo Ohhhhh GREAT! The Angels are going to make an offer to Ramirez? I hope it's a small one. And it's not just the work ethic/attitude thing, either. This guy has pretty pedestrian power numbers for a "power hitter" who's played in Wrigley for several years. I'm not sold on his fantastic ability.
@alansmafra@monkeywithahalo Coors, not Coors, either way he's better than Mathis and Wilson combined. Speaking of, I drive through there all the time and have never seen an off-ramp sign for the park. Huh. I must be concentrating on driving too much to enjoy the scenery.
Yes, Mr. The Monkey. Almost exactly the same thought crossed my mind and I tried, in my own failed way, to express said thought last night. As I attempt to marshall my stream of conscientiousness thinking on the topic (or, in my case: "puddle of conscientiousness") I reached the next step in the idea.
That is, I don't think I'd trade Conger away at this moment. Even if Ianetta works out well free agency is always a crap shoot as far as guaranteeing your guy will re-sign with your team. Even if he doesn't you'd still control Conger for three more seasons after '12 so I'd like him to get as much MLB experience as possible so as to become as useful as possible. Maybe catch every third day and DH once in a while. He really needs ML experience right now. For himself AND the Angels. Yes, at some point he could be traded, if necessary.
I feel for Conger. How does a kid drafted out of high school react to all the pressure of expectation and early draft pick? And in your home town! Just let him play some or he'll end up like Ianetta did in Colorado.
Wait, I haven't read Lyle Spencer's reaction yet.