Top Ten Things the Angels Can Do With All the Money They Saved On Jered Weaver's Contract Extension
The ink on Jered Weaver's contract extension isn't even dry and it already feels like it has become the gift that keeps on giving. Not only do we get to watch Weaver continue his domination over the American League, but now we get to dream up ways to spend all that money Weaver saved the Angels courtesy of the hometown discount he granted them. The mind reels with possibilities, but I think I've got a few that will really give the Angels the most bang for their buck.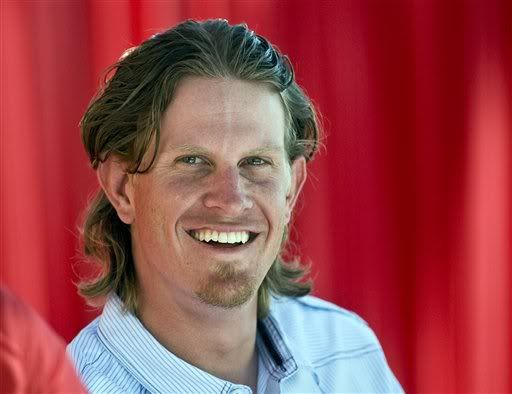 Thanks for staying and thanks for saving the team a few dozen millions over the next five years!!!

Actually use the money to acquire Weaver some run support at some point before his extension runs out.
Throw bags of cash at Andrew Friedman, Brian Cashman, Billy Beane or really any GM with a pulse to lure them away from their current employer to replace Tony Reagins.
Use the money plus Arte Moreno's connections in the billboard industry to put up the world's largest billboard in Scott Boras' front yard reading, "Hey, Boras! How do you like them apples? Go F@#% yourself!!!"
Pay off the City of Anaheim so that the Los Angeles Angels can finally drop the "of Anaheim" from their name. It may not be a great ROI on the money, but it will make us all feel a lot better.
Use the savings to pay the ransom Jeff Mathis has been blackmailing Mike Scioscia for all these years, thus finally allowing Scioscia to stop playing him.
Overpay two more middle relievers in their mid-30s, aka The Justin Speier Special (see also Rodney, Fernando and Takahashi, Hisanori).
With the estimated $20+ million the Angels saved, they can now pay for... one year of Vernon Wells' remaining contract which should make it an easier pill to swallow, right? Right? Hey, where's everyone going?!? Oh, come on!!!
Pay the workers at Angel Stadium a fair wage before they launch an embarrassing strike in the middle of the divisional race.
I'm not sure if it is legal, but I'm pretty sure if you took that $20+ million down to the Mexican underground surgery black market, you could find someone willing to give Kendrys Morales a donor ankle.
Save all that money to throw the most lavish championship parade of all time after Weaver pitches the Angels past the Rangers and all the way to a World Series this October!!!!!!
I got one. Bring back the kids pack at the concession stands so that parents can actually afford to, without going into debt, take their little ones to the game. $26 to feed 4 year old and a 7 year old is ridiculous. And yes, yes, yes on #10
Save the cash from suggestion #2 for scouting, signing and player development. Having viable bodies in the pipeline to trade or develop makes a GM look a lot better. I'm afraid those three names up there would insist upon it in any case.
Ah HA! I knew it! #6 shows without a doubt the desire to sign Heath Bell to the multi-year deal he will be looking for this off-season. And with similar results. The shelf life on these guys is too short and he is too old.
Egad! Another proponent of the Living Wage! Start going through the old job applications right now. Nobody who has filled out an application has found a job anywhere else so hire them. It's heat lamp hot dogs, not brain surgery or even air traffic controlling we're talking about in #8. Man up and fire the punks the first day of the next road trip and use the down time for training new employees.