Multiple Choice Monday: Will Mike Scioscia Ever Learn to Fill Out a Lineup Card?
We've seen Mike Scioscia cook up some bizarre lineups in his day, but he seems to have gone off the deep end in the last week by moving Bobby Abreu into the cleanup role, keeping Erick Aybar in the top of the order and continuing to bury Mark Trumbo in the bottom third of the lineup. We had all hoped his lineup decision making skills would eventually improve, but now I am starting to worry that Scioscia might have early on-set Alzheimer's setting in with the choices he is making. Now I can't help but wonder if there will ever come a day when Scioscia wises up to simple stats like OBP and crafts a batting order that doesn't cause the entire fanbase to pull its collective hair out.
Sounds like a great poll question for this week: Will Mike Scioscia ever learn to fill out a logical lineup?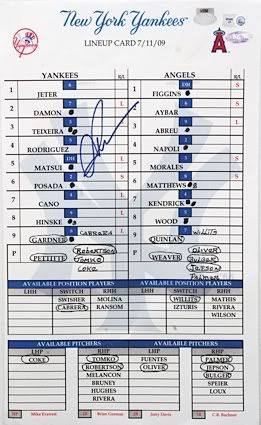 Seen here, the rare Angel lineup with Napoli batting cleanup.
Time to vote!
We should all just shut up and trust Scioscia. His lineups may not make sense to us, but he is the guy who has turned the Angels into a top club that contends almost every year, so, maybe he knows better than us.
Give him a break, with the players he has at his disposal, there isn't a lineup that anyone could create that wouldn't look stupid.
No, Scioscia has long shown the fatal flaw of placing too much faith in his veterans, even when they aren't performing, and too little faith in sabermetrics.
Are you kidding? These crazy lineups will never end. Let's not forget that we are talking about a guy who refuses to bench Jeff Mathis.
Fire Tony Reagins! I don't know why, but everything seems to be Reagins' fault, so blame him here.
To place your vote, simply find the Poll of the Week in the gray sidebar to the right.
Something around answer C. There really is no "good" lineup here with the players at his disposal. But he certainly isn't helping his case by keeping Abreu in the 2-4 spots. But did it ever occur to anyone that maybe keeping Trumbo in the lower part of the lineup is good for the team? He's getting such good pitches to hit because he's down in the order. He'd probably see a steady diet of breaking balls in the cleanup spot. Plus, without Turmbo at the bottom of the order, the bottom would be some combo of Bourjos, Mathis and Abreu or Callaspo. No production there. Not a whole lotta production from the middle of the order either but at least there's a perceived threat. Keeping Trumbo down toward the bottom at least extends that threat across a few more batters. Or maybe it really is simply stupidity or arrogance on Scioscia's part. I don't know.