OK, I give in, I can't hold my tongue anymore. I was going to take the recent time off the blog move has granted me to relax and center myself until the new site and domain move was taken care of.
Yeah, not so much.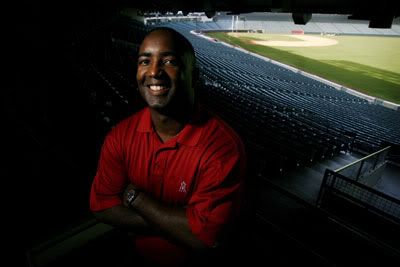 This site is emerging from the darkness, but will Reagins ever do that same and make a big move?
What I hadn't counted on when I went on hiatus was that A) it would take so damn long (seriously, transfer the domain back to me already, freaking IT people) and B) that the Angels would take so damn long to DO SOMETHING!!!!!!! Oh, wait, no I'm not. Not with Tony "No Comment" Reagins involved. So now that the Winter Meetings are well under way, allow me to vent on all that has transpired (or hasn't, as it were) in the Angel off-season.
Alas, that is all that is going in the land of Angel baseball. Those "Kazmir to the Rockies" rumors seem to have gone up in smoke (no pun intended), but now interest is starting to pick up in Juan Rivera. Oh, yeah, and there is the persisting rumors that the Angels are still the favorites to sign Crawford, Rafael Soriano and Adrian Beltre (and presumably gain permission from the US government to start printing their own money). No doubt, Tony Reagins will be busy, even though he still couldn't be bothered to arrive at the meetings on time.
As for me, I'm not going to go radio silent again, but I'm not going to get fully ramped up again either, not until the domain transfer finally happens. However, I will continue to react to news and rumors as I see fit or, more accurately, as Reagins sees fit to actually do something of note.