Multiple Choice Monday: The Angels and Adrian Beltre
Welcome to our newly weekly feature: Multiple Choice Monday! Where we ask the question and you, the reader, provide the answers. We realize though that it is Monday, so we will make things easier on you by providing you with some potential answers to choose from. So without further adieu, let's discuss this week's topic: Adrian Beltre and the Angels' offer.
By now you should all know that the Angels have gone public with the fact that they have made a big contract offer to Beltre (allegedly $70 million over five years), but that Beltre (and by Beltre, I mean his agent, Scott Boras) turned it down. The Halos say their offer is final but Boras/Beltre don't appear likely to back off from their demands (six years, $90 million) even though the Angels appear to be Beltre's only legitimate suitor. Who will blink first? Will the Angels ever get their man or is this just another Tony Reagins' free agency failure in the making?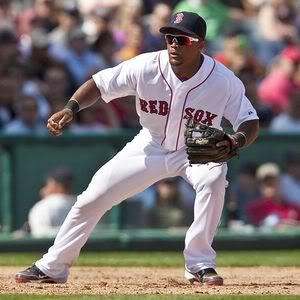 Time to vote!
Adrian Beltre and his agent Scott Boras will cave in and take the Angels' "significant" offer
Arte Moreno and Tony Reagins will succumb to the public pressure and give in to Beltre's six-year, $90 million asking price
The Angels stick to their guns, but so does Beltre who finds a bigger payday elsewhere, leaving the Angels out in the cold once more
Tony Reagins will get stuck at the Del Taco drive-thru and forget to make an actual offer... again
The Red Sox will swoop in just before the Angels' deadline and steal Beltre, as well as Tony Reagins' manhood in the process
To place your vote, simply find the poll on the sidebar to the right and make your choice.