Game Rewind: Saun- D'oh! - Twins 5, Angels 3
Twins 5, Angels 3
Halo Highlights
Hunter literally did everything for the Angel offense tonight.  All three runs came off his bat, but they went to waste.  Nonetheless, Torii looks locked in at the plate right now and could be in for another torrid start to the season like he had in 2009 which would obviously be a major positive for the Angels.
I was hard on Brandon Wood last night, but he looked much, much better tonight.  He was visibly more comfortable at the plate and was actually taking some good looking swings, clearly focusing on just trying to send the ball back up the middle.  The result was his first base hit of the season which was not so coincidentally coupled with the monkey on his back being removed.
A solid debut from Brian Stokes.  He throws hard and has a nice breaking ball.  I can definitely see him being useful, though I suspect his success will be entirely predicated on his ability to control his breaking ball (which spent more time in the dirt than a corpse tonight, and that won't work once opposing batter get the scouting report on him).
Two more walks for Aybar tonight (still no steal attempts though, grrr) giving him three walks on the season.  Erick didn't even get his third walk of the season until May 6th last season and his first multi-walk game since June 30, 2008.  You think someone might be working on being more patient this year?
Los Angeles Angels of FAIL
Do we really need to spend any time listening to the Japanese language broadcast, especially late in the game when Hideki Matsui is at the plate with a chance to cut into the lead or tie it up?  How is it supposed to help me enjoy the game to have to listed to 90 seconds of two guys speaking in a language that I have absolutely no knowledge of?  Ten seconds early in the game is fine, but after that it goes from an interesting novelty to just annoying.
That Snuggie record was the dumbest thing I have ever seen.  I am actually more concerned though that the Angels needed to resort to a promotion like that this early in the season to sell tickets against a visiting team that is actually pretty good.  At least they got it out of the way early so we don't have to hear about it for weeks on end.
Why was Matt Palmer called on out of the pen?  Isn't he supposed to be the number five starter this week?  Maybe this was his regular day to get some bullpen work, but having him throw two innings and then start three days later this early in the season seems a little careless.  Or maybe they are going to call up O'Sullivan Friday and just haven't told anyone yet.
Angel A-Hole of the Game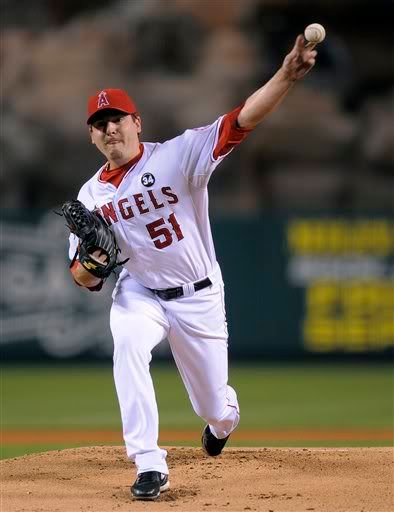 Say it ain't so, Joe!

Ah crap, the bad Joe Saunders is back.  Saundo dug the Angels an early hole that they never could dig out from as he let the Twins touch him up for three homers in five innings of work, starting with a two-run blast from Joe Mauer in the first inning.  This wasn't the Saunders we saw during his dominant post-season start either, this was the guy who was scared to throw inside back when his shoulder was bothering him last season.  Joe has a lot of work to do before his next start.

An Angel loss in which Saundo made all Angel fans scream "D'oh!" (three times)